Klay Thompson is a shooter.
By all accounts, Travis Kelce has broken up with his long-time girlfriend Kayla Nicole once again. This time around according to a wild rumor, it wasn't for "cheating" but rather for being cheap. . Reportedly, the 32-year-old was making his fiance pay half for everything they did during the relationship. And this according to the story, was the main reason behind the couple calling off their relationship.
Kayla Nicole Finally Responds to Wild Rumor Claiming Why She Broke Up With Travis Kelce https://t.co/bHKVjiE45g

— SideAction (@SideActionHQ) May 31, 2022
We called this breakup weeks before this wild rumor hit the net.
Travis Kelce, Kayla Nicole Rumored to Have Broken Up https://t.co/ntyqyd1H2O

— SideAction (@SideActionHQ) May 6, 2022
Back in 2020, the couple split up for the first time publicly being in a relationship since 2017. The former Super Bowl Champion was alleged for cheating behind her back.
At this point it seems they are still broken up, so that's where Golden State Warriors star Klay Thompson comes into play.  We got word that Klay has been following and unfollowing Kayla, which is a technique used to get someone's attention. As of now Klay is following Kayla Nicole.
See below: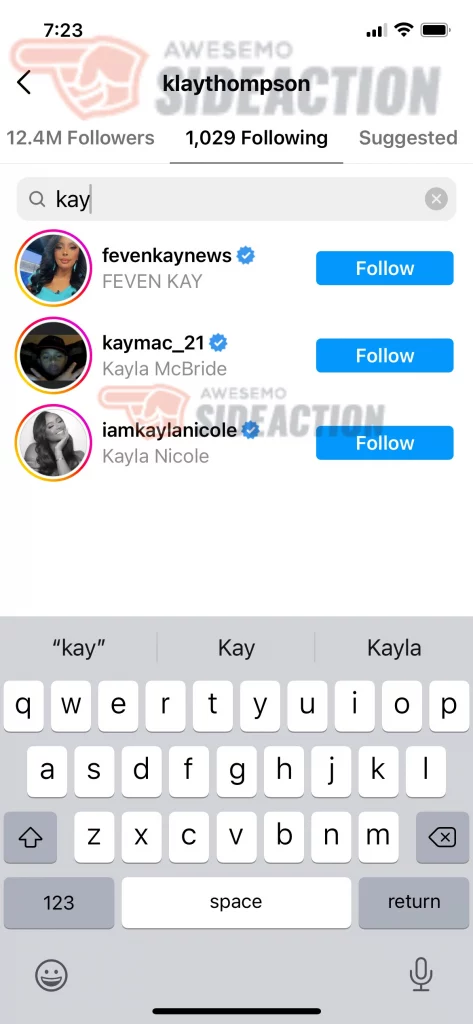 Klay has been putting out plenty of feelers lately, namely one that got caught on camera. 
Internet Was Convinced Klay Thompson Was Shooting His Shot at Malika Andrews https://t.co/F8rbaEs0MI

— SideAction (@SideActionHQ) June 11, 2022
Looks like Klay is keeping busy during the NBA  Finals, can't blame the guy for trying to catch a big fish.
We'll see if his off the court shooting helps his shooting tonight in Game 5 of the NBA Finals.
Check out some pics of Klay's latest target below:
---
Welcome to the game outside the game! Follow us on our Sideaction Twitter handle, Instagram, and Facebook for the latest on sports and pop culture news across the web!