Instagram Model 'Ayyejae' loves her some basketball.
Instagram model Aliza, who also goes by her former handle Ayyejae, is best known for allegedly sleeping with 7 players on the NBA's Phoenix Sun's team, including NBA superstar Devin Booker. Now we've been scooped  that Aliza is pregnant, and naturally speculation is that her child's father is a current NBA player. Aliza went viral last year, when she went on Youtube podcaster Adam22's No Jumper podcast. While on the Podcast, she casually  told her about her escapades with the Phoenix Suns squad.
According to 'Ayyejae', she met up with Devin Booker and decided to hook up with him. Then according to her story, Devin Booker tagged her off to one of his teammates, then another, and another. In the end, Aliza claims that 7 members of the organization participated in the escapade.
Listen to 'Ayyejae' tell her story below:
Nah what NBA team was letting this girl throat them like this at the same time 😭 pic.twitter.com/2XrS4Tc4UX

— Ⓜ️ (@WashedMel) August 18, 2020
Aliza gave some hints on the players involved:
Quarantine the Phoenix Suns. pic.twitter.com/DlTHEF6t0I

— Alex. (@dbs408) August 18, 2020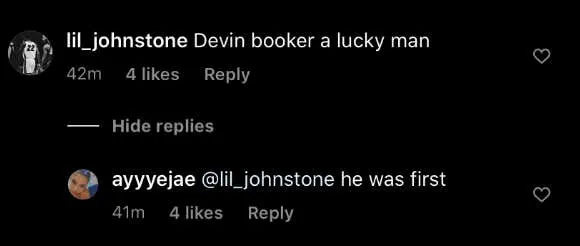 Well Aliza seems to have slowed down a bit since her Suns days.  We're now finding out  that 'Ayyejae' is now pregnant, with her first child.
And while Aliza isn't revealing too much on who the father is,  there's growing speculation that the dad is a current NBA player, which makes sense considering her past trysts.
Here are some recent pics of 'Ayyejae':
Hopefully we get some confirmation at some point who the Father is.
---
Welcome to the game outside the game! Follow us on our Sideaction Twitter handle, Instagram, and Facebook for the latest on sports and pop culture news across the web!