Tyrann Mathieu's girlfriend is spilling the tea.
The three-time All-Pro returned to his hometown and signed with the New Orleans Saints last spring in free agency, a full circle moment for the player who admitted he wasn't ready to be in New Orleans due to all the potential distractions. The move was significant enough that Peterson texted Mathieu after the signing, simple song lyrics by Drake to celebrate his return to the city he left behind.
Just hold on, I'm coming home.
"That was big for him, man. I know how much Louisiana [and] New Orleans means to him," Peterson said. Mathieu can stand at his locker now and say he "made it."
But none of it would have been possible without the team that took a chance on him in 2013. Arizona. The New Orleans Saints and Mathieu's first team matched up yesterday in a Thursday Night Football showdown. Strangely enough we found out some info on the very same night. Apparently Tyrann Mathieu's girlfriend Sydni Paige blasted out that the man known as the honey badger has a Finsta account. In case you're not in the know, Finstas are fake Instagram accounts, and they are often intended to avoid a girlfriend's oversight.
"LOL. Tyrann Mathieu has a finsta. How old are we?? If you didn't know finsta is a Instagram where you post things you wouldn't  post on your public IG."
See the screenshot below: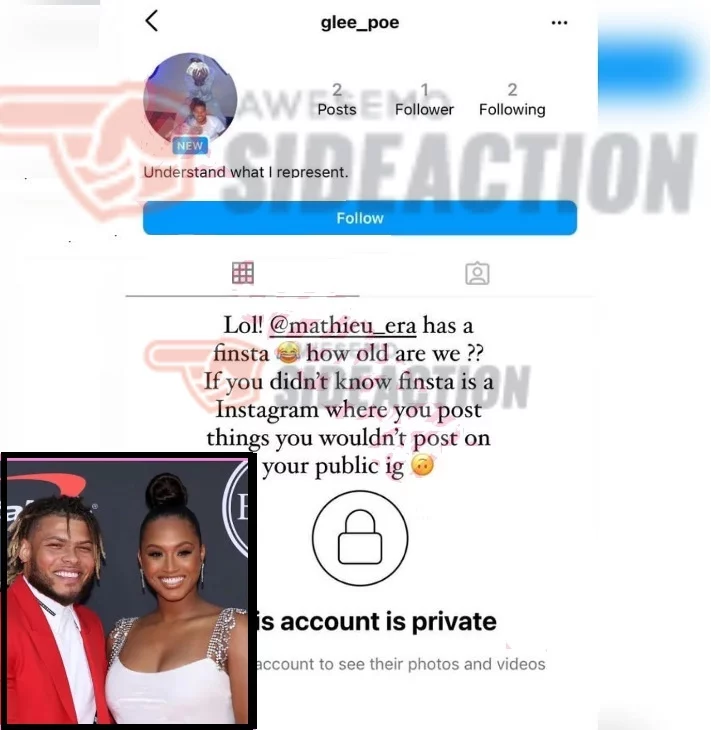 Sydni quickly deleted the message, but it was too late. The Finsta account also been deleted.
Tough week for Tyrann, his Saints lost to his former team last night 42-34.
Check out more of his girlfriend below:
---
Welcome to the game outside the game! Follow us on our Sideaction Twitter handle, Instagram, and Facebook for the latest on sports and pop culture news across the web!