Patrick Mahomes wife, Brittany Matthews, has been known to lash out at her critics on social media. And she was back at it again this week.
When someone in the comments section claimed he would 'kill himself' if he was stuck with her, she was quick to respond.
"Making comments like this are very very concerning but also highly inappropriate," she said. "'Killing yourself' is not a term to just be throwing around like this.It's actually a very serious matter.
"People deal with these thoughts often. And it can be VERY TRIGGERING to some people.
"The culture and society in todays world can be extremely hurtful…please be aware when you say stuff like this and know it can affect a lot of people if they even read or see these words.
"Let's be better."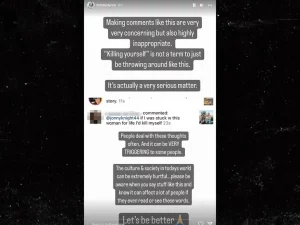 Brittany Matthews and Patrick Mahomes' brother, Jackson, has been the butt of many jokes since the Chiefs QB made his leap into superstardom.
But at the end of the day, they seem to be handling the criticism ok.
Say what you will about Brittany Matthews or any other members of the Mahomes family. But this was a decent point by her, maybe the suicide comments were a bit too far.
Check out more of Brittany below:
---
Welcome to the game outside the game! Follow us on our Sideaction Twitter handle, Instagram, and Facebook for the latest on sports and pop culture news across the web!