We broke the scoop of the year, Green Bay Packers Quarterback Aaron Rodgers' is back in the saddle with a new girlfriend following a very public breakup.
The Green Bay Packers QB is now dating a woman who goes by the name of Blu of Earth, and apparently she considers herself a witch and a medicine woman. We have the only pics of Aaron Rodgers with his new girlfriend. 
Aaron Rodgers Rebounds From Shailene Woodley With New Girlfriend 'Blu of Earth' https://t.co/BSub8KXh07

— SideAction (@SideActionHQ) June 9, 2022
We also have received some more info on the new couple.
Via our Exclusive Source:
"They are 100% together. Whether or not Aaron intended this to be made public is another thing. The story was posted and then taking down within the hour. His intent may be different than hers, if you know what I mean. She's posted stories from his house too" says our source. 
Interestingly enough, Miles Teller's wife, Keleigh Teller, liked a tweet about Rodgers and his new girlfriend.
See Keleigh Teller's telling like below: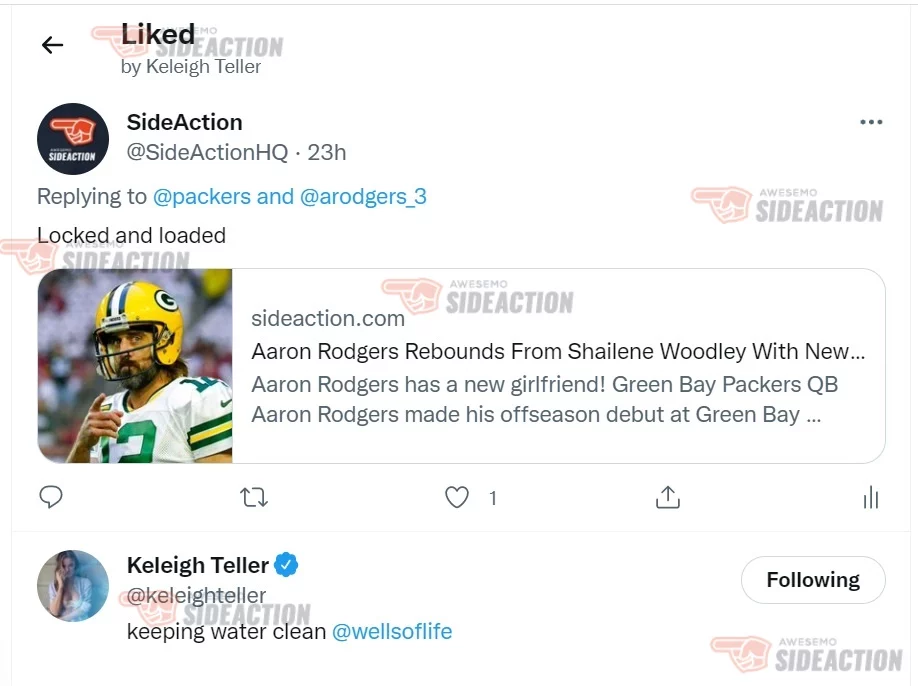 Rodgers is super friendly with Miles Teller and his wife. Rodgers and and his former fiance Shailene Woodley even vacationed with the Actor and his wife.
Aaron Rodgers, Shailene Woodley Are 'Soulmates' As They Explore Hawaii With Miles Teller, Wife https://t.co/fFHcOO9jl2

— SideAction (@SideActionHQ) May 26, 2021
Looks as if Miles and his wife were not forced to  to choose sides in Shailene and Aaron's split.
We'll keep digging for more info on Rodgers and his new girlfriend Blu.
You're my girl Blu!
Check out more of Rodgers girlfriend Blu of Earth below:
---
Welcome to the game outside the game! Follow us on our Sideaction Twitter handle, Instagram, and Facebook for the latest on sports and pop culture news across the web!