Kelly Stafford took the bait on some fake Aaron Rodgers news floating around social media.
The "quote" had Rodgers throwing shade at the Lions and Bears when talking about Vikings quarterback Kirk Cousins.
"Kirk and I are actually good friends. He's someone I respect a lot," the fake Rodgers quote reads. "We have similar beliefs and values. Each off-season his family will come out and have a meal at my place, he always invites me out to return the favor. You just don't see players like him and I very often in the league. Take the North for example, if you put him or I on the Lions or Bears we would be the best QB that franchise has ever seen."
Kelly Stafford reposted the fake Aaron Rodgers quote on he Instagram page with the caption, "Ya you're wrong. Maybe the Bears, maybe."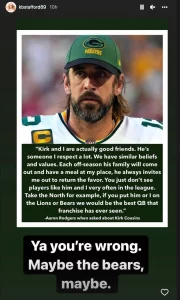 After many years with Detroit, Kelly and Matthew Stafford took their journey to La last season. And in Year One, they were able to accomplish their goal of winning the Super Bowl.
Despite many years of above-average play with the Lions, Stafford was unable to get his team over the hump. And finally, he decided to get out of the rebuild plans.
Kelly and Matthew Stafford still have a ton of love for Detroit. And if the Aaron Rodgers quote was real, I'd have to agree with her — Stafford has been a step better than Kirk Cousins throughout his entire career.
---
Welcome to the game outside the game! Follow us on our Sideaction Twitter handle, Instagram, and Facebook for the latest on sports and pop culture news across the web!