Travis Kelce and his longtime girlfriend Kayla Nicole have broken up again.
We first broke the news a few weeks ago as our source told us they are not currently together.
"They are not together right now. If you pay attention they don't comment on each other's pics anymore. Also there are so many people in the comment section asking her if she's single, which is another tell tale sign. But oh well. Rich people problems."
Travis Kelce, Kayla Nicole Rumored to Have Broken Up https://t.co/ntyqyd1H2O

— SideAction (@SideActionHQ) May 3, 2022
Kayla then dropped a cryptic post that pointed towards their breakup, she was spotted at the Mavs game without Travis.
Kayla Nicole's Cryptic Post Leads to More Travis Kelce Break Up Rumors https://t.co/shFfsWNM3u

— SideAction (@SideActionHQ) May 26, 2022
The wild rumor that recently began to circulate is suggesting Kayla Nicole  broke up with Travis Kelce because he's "cheap" and made her pay half for everything during their relationship.
Via MTO:
"According to a person close to Travis' former fiancé Kayla, she and the NFL star are officially over. And this time it's for good.

And no it doesn't have anything to do with Travis cheating . . . it has everything to do with Tarvis' CHEAPING!!

Kayla's girlfriend told Media Take Out that Travis is so cheap that during their entire relationship, which lasted more than 3 years – Travis (who is playing on a 4 year $60M contract) only gave Kayla $100. Yes, you read that right – A HUNDRED DOLLARS.

Kayla's friend explained, "Travis is very cheap. In the beginning he tried to make Kayla 'prove' that she wasn't with him for the money . . . so she had to pay half of everything." The tipster continued, "Half of every date, every trip, everything."

The two split up last year – amidst cheating rumors. And Travis promised that if Kayla took him back, he'd be different. But the friend explained, "Travis is still cheap. Maybe he's not cheating anymore – but he's not breaking bread like he needs to be."

According to the friend, Kayla and Travis are "no longer together."

We asked whether there was hope that Travis and Kayla, who make such a great looking couple of ever reconciling, Kayla's fried (sic) told Media Take Out, "If he stops being cheap and gives Kayla what she deserves, maybe."
Fans shared their reaction to the Wild rumor.
@tkelce you dodged a bullet dog. Keep your bank account safe 🙏🏾

— Surfy. D. Charles (@yungsurfgod) May 27, 2022
Damn Kayla going out sad, travis Kelce cheated on you with mad white broads, only spent 100 dollars on you and dumped you 😬😬 that's tough

— .. (@frenchking101) May 26, 2022
Travis Kelce officially a city boy

— Nine (@Bizzle_La_Flare) May 27, 2022
If Travis Kelce really only gave his old lady a $100 he needs to be celebrated! CITY BOYS UP, BIG UP‼️

— Quincy Avery (@QuincyAvery) May 26, 2022
wait travis kelce girl broke up with him cause he made her split the bills??? lmfao i stan a king

— #RIPKobe (@TruChainz_) May 27, 2022
Now it appears Kayla is responding to the wild rumor, which in my opinion, and I've been doing this for a very long time, is clearly made up. You have to know the source, and MTO has been making stuff up for years. They are one step away from being The Onion. But back to the story.
Kayla Nicole is aware of the ridiculous reason they broke up, and did her best to shoot down the rumor by liking a very telling Tweet.
"I could only imagine these rumors not being true and you having to hold it in dying to explode"
See below: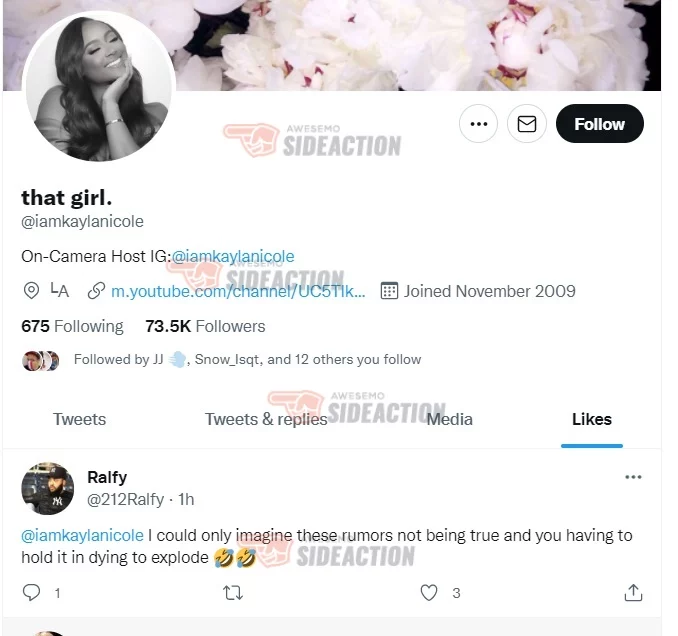 Kelce and Nicole broke up amid rumors that the Chiefs tight end had cheated on her back in 2020 as well.
Our source tells us Travis and Kayla are currently still not together, but the money thing has nothing to do with their most recent breakup. If you take a look at Kayla's Instagram, she scrubbed all pictures of Travis.
Like I said before, we'll know for sure if they get back together come football season.
While we patiently wait for the NFL to return, check  out more of Travis Kelce's purported ex below:
---
Welcome to the game outside the game! Follow us on our Sideaction Twitter handle, Instagram, and Facebook for the latest on sports and pop culture news across the web!