Antonio Brown is back at it.
The former All-Pro receiver is really enjoying all that's going on with Tom Brady, on and off the field. Antonio Brown trolled the Bucs star yet again on Sunday with another photo of Gisele. AB released the troll post on his Snapchat just before Brady's Buccaneers took on the Panthers in Carolina, showing an old pic of Tom and Gisele, but of course AB's head was photoshopped over Tom's.
In the photo, Brown can be seen showing off a huge grin, and it's another clear shot at his former teammate, who is in the middle of a potential divorce from his longtime wife.
See Antonio Brown's troll job below: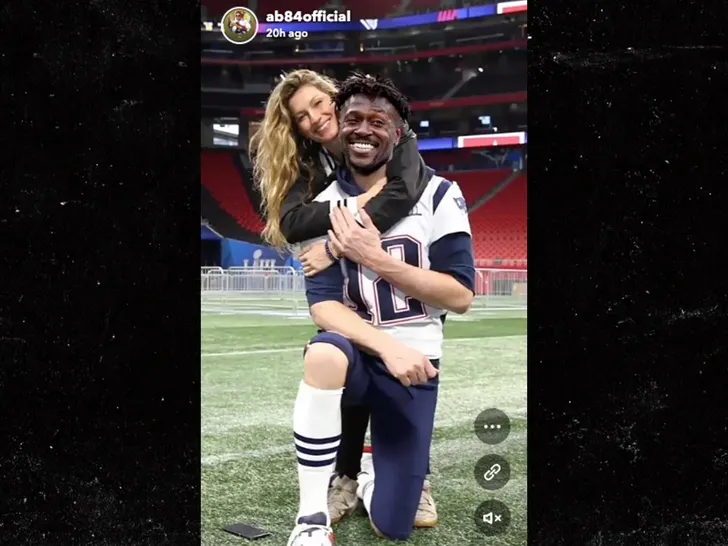 Brown didn't stop there, 'cause after the Tampa Bay Bucs got blown out by the hapless Carolina Panthers, Brown took to social media again to continue to roast TB12.
In that post, Brown photoshopped Brady over his own body from his infamous MetLife Field incident last season. AB captioned the photo with nothing more than some dancing finger emojis and the hashtag, "#Putthats***On."
👉🏾👈🏿👉🏾👈🏿👉🏾👈🏿👉🏾👈🏿👉🏾👉🏾 #PutthatshitOn pic.twitter.com/8KIXmoeMyM

— AB (@AB84) October 23, 2022
AB has been using Tom as a target all season long. Only a few weeks ago the controversial free agent wide receiver threw up an old picture of him hugging Gisele following Tampa Bay's Super Bowl win over the Chiefs.
Brown also put Tom on blast over his mid-training camp hiatus in August, writing on his Twitter page, "Tom Brady manipulate the game gets 14 days go home get his mind rt lol."
This is what Tom gets for trying to help out Antonio Brown.
---
Welcome to the game outside the game! Follow us on our Sideaction Twitter handle, Instagram, and Facebook for the latest on sports and pop culture news across the web!