The Russell Westbrook Lakers drama never seems to end.
Russell Westbrook will almost certainly remain with the Los Angeles Lakers at the start of training camp, although L.A. is reportedly still looking at the possibility of trading the 2017 NBA MVP in the coming weeks.
The Lakers are believed to have spoken about a Westbrook trade with the Brooklyn Nets, New York Knicks, San Antonio Spurs, Charlotte Hornets, Utah Jazz and Indiana Pacers during the 2022 offseason. Every day it feels like there's another report about a potential trade partner for Westbrook. Russell Westbrook's wife, Nina, posted this on Instagram hours after the Lakers cancelled a press conference. Westbrook's wife is seemingly sick of the disrespect. She took to her Instagram story to drop a cryptic quote about what worth.
"Bottle of water can be a dollar at a supermarket. $3 at the gym. $5 at the movies and $6 on a plane. $10 on Vacation.  Same Water. Only thing that changed its value was the place. So  the next timme you feel your worth is nothing, maybe you're at the wrong place."
See her post below: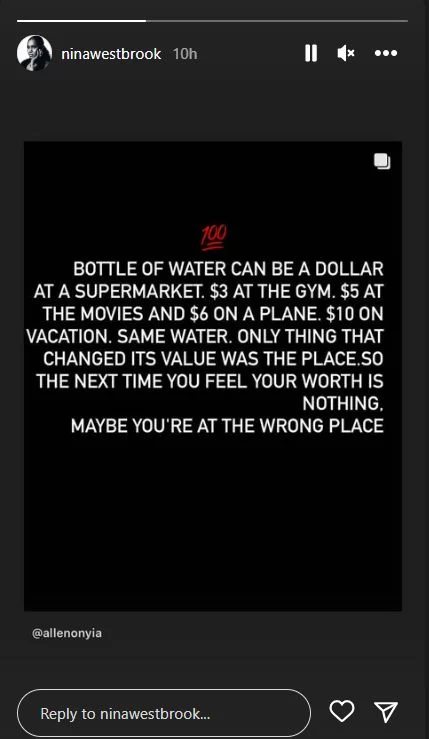 According to SpursTalk, the Spurs are also still monitoring Westbrook's situation, showing interest in taking on the guard's $47.1 million salary in exchange for draft compensation:
"At one point in time, the Spurs were in talks with the Los Angeles Lakers to absorb Russell Westbrook's contract. In that scenario, San Antonio was to be compensated with multiple draft picks. Currently, a source close to the Spurs says the two teams are no longer engaged in active talks due to the Lakers preferring offers by both the Pacers and the Jazz.

According to a Western Conference scout, the Lakers are telling teams that they will take a wait and see approach to trading Westbrook as training camp approaches. If the Lakers decide to trade Westbrook at some point down the line, the Spurs remain one of the few teams in the league open to such a deal."
If Russell and the Lakers can start out playing well,  things should smooth themselves out,  but that's a big IF.
It seems like a breakup between Russ and the Lakers is inevitable. Clearly his worth would be better suited on another team.
---
Welcome to the game outside the game! Follow us on our Sideaction Twitter handle, Instagram, and Facebook for the latest on sports and pop culture news across the web!