The NIL Queen, Olivia Dunne, seemingly a big fan of Joe Burrow.
No one could have predicted that one day we would see a college gymnast become a millionaire simply off endorsement deals, this due largely in part to her huge following on social media. Olivia has a massive following on social media sites like TikTok and Instagram. The former US Nationals team gymnast has earned over $1 million thanks to a series of lucrative sponsorship deals from her name, image, and likeness. She currently has over 2 million followers on Instagram where she often posts pictures her life inside and outside of the sport of gymnastics. The LSU Tigers gymnast, who is one of the most-followed athletes on social media in the entire college sports world, is going viral this week after she shared a photo with "Joe Burrow" over the holiday weekend.
Well, actually it was a painting of Joe Burrow, but still.
See the pic below: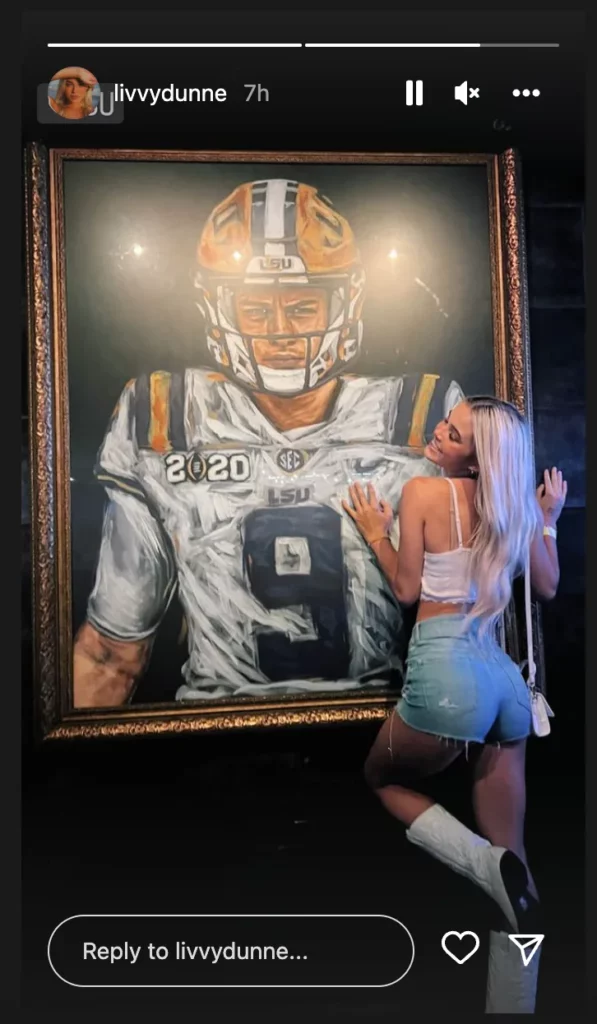 As we all know, Joe Burrow played for LSU for two years, leading the LSU Tigers to a national championship.
Joe has since flourished in the NFL, currently playing for the Cincinnati Bengals in the National Football League. Burrow is ready to bounce back from a crushing Super Bowl loss last season against the Los Angeles Rams.
Olivia's post can only help Burrow and the Bengals as they prepare for another tough season in the Pros.
Check out some pics of the Burrow admirer below:
---
Welcome to the game outside the game! Follow us on our Sideaction Twitter handle, Instagram, and Facebook for the latest on sports and pop culture news across the web!