Joe Burrow is getting shown some love.
Olivia Dunne continues to show why she's one of the most-followed athletes in the entire sports world. The LSU Tigers gymnast has millions of followers across her social media platforms, she's really keeps at it, and it feels like she puts out a viral video or two every week. This week she posted to TikTok, showing off her locker room. In the video you can see Cincinnati Bengals star Joe Burrow making an appearance.
Watch below:
Plenty of comments came flying in over Burrow making a cameo in her TikTok.
Burrow is the 🐐
Joe > You
Olivia even responded to one of the comments that Joe is > than her.
Olivia Dunne · Creator
Agreed
Fans believe she was trying to flex by showing the pic with Burrow.
Can you tell Joe to throw the ball to Chase more often it's not helping my fantasy team
Just a casual pick wit joe shiesty
Gotta add the joe pick just to flex
Joey b is public enemy #1
the 2 most loved LSU athletes
You > joe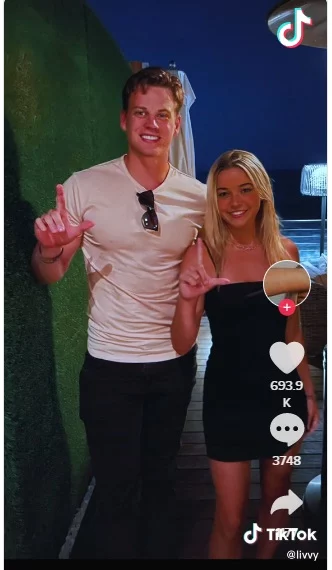 Olivia was recently named the most influential female athlete, and this isn't the first time she has shouted out Joe.
Prior to the season she showed Joe some love. 
The LSU family is a tight one.
Check out more from the LSU gymnast below:
---
Welcome to the game outside the game! Follow us on our Sideaction Twitter handle, Instagram, and Facebook for the latest on sports and pop culture news across the web!