If you've watched our morning show (or the Strategy Shows when sports were still a thing), then you'll know we've always had a bit of friendly competition. Whether it's spicy chips or mustaches, it's always more fun to have a little something on the outcome. In this case, we're talking about pride. Welcome to the NBA 2K20 Career Sim.
Using NBA 2K20, we have cloned three times LeBron James. We used the LeBron James that would have been entering the league in 2003. Each clone was renamed to Loughy, Ben and Josh. Each of us will accrue points based on the scoring categories listed below. The individual with the most points after all three of us retire will win the title of GOAT of the Awesemo Daily Sports Show. We'll have a video recap for each season, culminating in a final recap to crown the GOAT.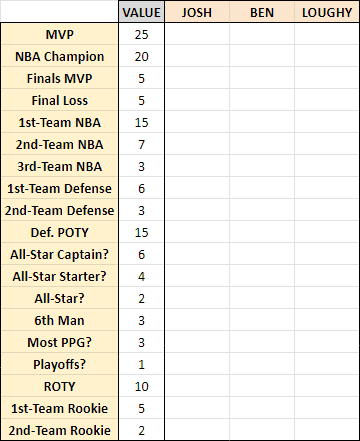 Episode 1 features an intro, the simulation of the 2019-20 NBA season, the lottery and the NBA Draft. Want to find out where the three of us landed? Check it out above. Let us know in the comments section of the video who you think will be the best when all is said and done!