Terrell Owens sex tape?
Terrell Owens was known to be quite the diva during his playing days, but the Hall of Fame wide receiver has laid pretty low since he retired from the NFL.
Terrell has been in the news as of late, mostly by people comparing him to Antonio Brown.
Owens even recently took to Twitter to make sure no one compares him to Antonio Brown.
Wow. Respectfully and Disrespectfully, there's no comparison. Clearly you've been drinking the kool-aid. https://t.co/d6th2OAan2

— Terrell Owens (@terrellowens) January 2, 2022
Maybe he does have a little in common with Antonio Brown? You know like an alleged sex tape out there.
A Miami stripper claims to have a sex tape with Terrell Owens via BSO.
She took to Twitter to advertise it.
See below: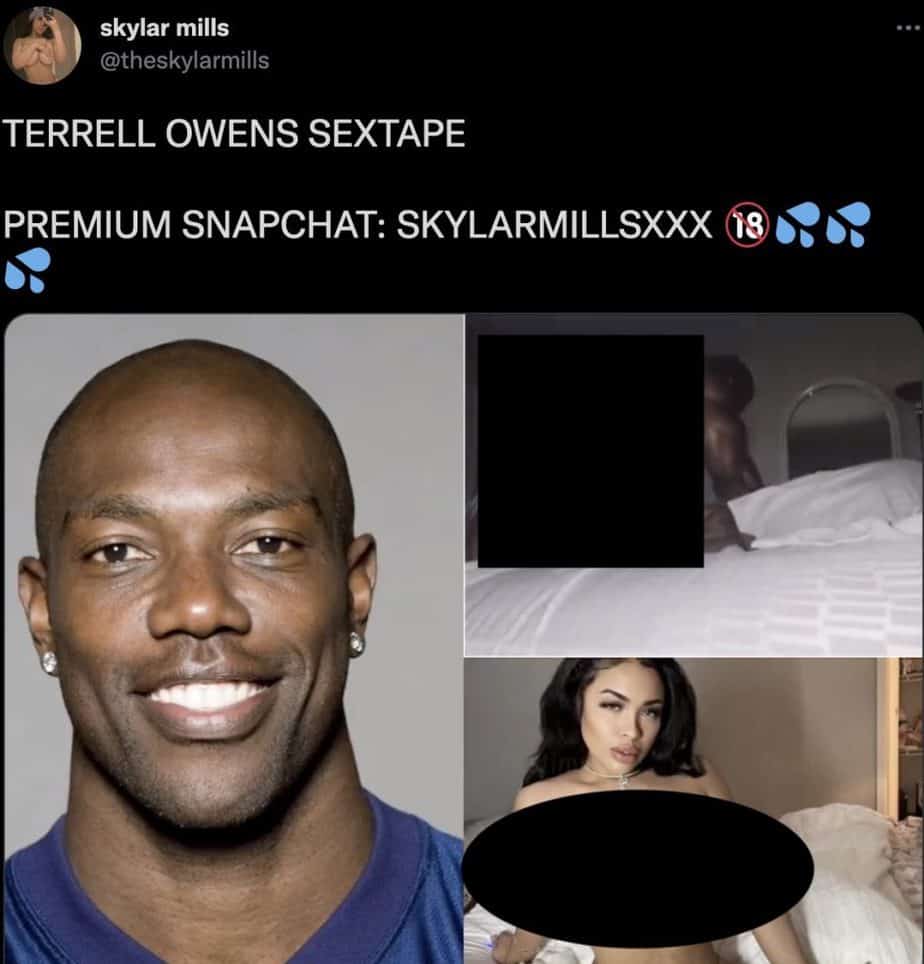 Terrell Owens has yet to respond to the allegations, which is probably a wise decision.
All that would do is turn this into a real story. For now it's just an exotic dancer trying to get some attention.
Sorry T.O. had to post.
Check out more of Terrell's accuser below:
Join me in my Space! https://t.co/I5h1vi5OLN pic.twitter.com/BMoQYrDFvE

— skylar mills (@theskylarmills) February 1, 2022
PREMIUM SNAPCHAT: SKYLARMILLSXXX pic.twitter.com/crwcS7vWks

— skylar mills (@theskylarmills) January 30, 2022
@theskylarmills pic.twitter.com/UOJOwzKmlh

— skylar mills (@theskylarmills) January 24, 2022
You guys seem to really enjoy my bathtub #moanspace. Tonight, I'm doing a new one but you can get the video version via

Premium Snapchat : THESKYLARMILLS pic.twitter.com/rIQApXS0dB

— skylar mills (@theskylarmills) January 13, 2022
@Drake pic.twitter.com/4GCMGmOC5G

— skylar mills (@theskylarmills) January 11, 2022
---
Welcome to the game outside the game! Follow us on our Sideaction Twitter handle, Instagram, and Facebook for the latest on sports and pop culture news across the web!