Logan Paul wants to fight a superhero.  The reality star is set to fight Floyd Mayweather on February 20th in an exhibition match. Mayweather has never lost a fight, and is notorious for knocking out celebrities in exhibition like matchups. His brother isn't sold.
In an interview with TMZ Sports, Jake Paul calls his brother Logan a 'fake fighter' who doesn't belong in the ring with a boxer like Mayweather. He added, "My brother's f***d. It's bad for the sport. I think it's just for clout. My brother's a fake fighter I'm the real fighter."
---
Sideaction's Latest:
---
Now Logan Paul has his sights set on his next opponent after he fights Floyd Mayweather.
Chris Hemsworth, aka,  Thor.
Responding to a video uploaded by Hemsworth showing himself sparring, the reality star replied: 'I'll fight him after Mayweather.'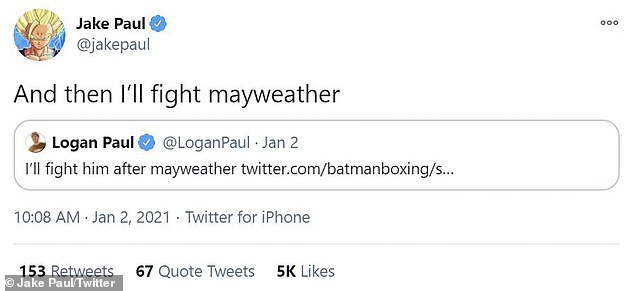 Chris Hemsworth would never ever get into the ring with Logan Paul.
He's not the kind of guy that needs to prove anything to anybody. The guy is a fricking superhero for God's sake.
These Pauls never stop trolling.
---
Welcome to the game outside the game! Follow us on our Sideaction Twitter handle, Instagram, and Facebook for the latest on sports and pop culture news across the web!