English soccer legend Michael Owen is not a very happy man this week.
As many people swarmed OnlyFans claiming some pictures of his daughter were leaked all over the web, it was quickly revealed that it was not actually Gemma Owen.
The former star's 19 year old daughter took to Instagram to try to clear up the whole mess.
"Apparently some guy is circulating pictures trying to claim it's me. These pictures were taken off this girl's OnlyFans. These images are clearly not me. Thank you to this girl for clearing it up. Just for the record, I do NOT have OnlyFans."
The woman whose pictures were leaked, "Jill", helped Gemma Owen clean up the whole mess.
Gemma wrote her message over a screen-grab of Jill's tweet that read: "When my nudes get leaked everywhere and people think its Michael Owens daughter? I'm actually knocked sick and I'm not even gonna bother staying quiet on it because too many people have sent it to me now, its the fact that men are getting off to the fact it could be a teen."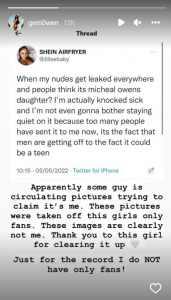 According to the Daily Mail., Michael Owen is "horrified" by the whole OnlyFans ordeal involving his daughter.
"Michael is horrified his daughter's name is being used out of turn and all he wants is for this situation to be rectified," a source told the Daily Mail. "It is clearly not Gemma in the images; she doesn't use OnlyFans, and is only ever pictured in a bikini to promote her brand. He's a protective father and now Gemma is getting older, he wants to do everything he can to look after her image and reputation."
Soccer legend Michael Owen fuming over OnlyFans mix-up with daughter https://t.co/lF1KC30lpp pic.twitter.com/bgIEVUs34u

— New York Post (@nypost) May 7, 2022
Check out some photos of Michael Owen's real daughter, Gemma Owen, below:
---
Welcome to the game outside the game! Follow us on our Sideaction Twitter handle, Instagram, and Facebook for the latest on sports and pop culture news across the web!