Justin Herbert's manager is also his girlfriend? Los Angeles Chargers superstar Quarterback Justin Herbert is about to begin his second year in the NFL. The Reigning offensive rookie of the year is poised not to experience any kind of sophomore slump. Away from the field, it appears Herbert is being very productive as well, or at least staying very active.  Since he made his splash in the NFL, Herbert has been linked to a few different ladies.
First there was the rumor linking Herbert to a Monster Energy Girl.
Justin Herbert Linked To Monster Energy Girl Rylee Jeanhttps://t.co/vXMiHDEQ7x

— SideAction (@SideActionHQ) October 12, 2020
That turned out to be just that, a rumor.
Since then Herbert has been linked to the NFL Network's Taylor Bisciotti.
Chargers QB Justin Herbert Reportedly In A Low Key Relationship With NFL Network's Taylor Bisciottihttps://t.co/LrhlgLbUzk

— SideAction (@SideActionHQ) May 28, 2021
Nothing much came out of that.
Following that linkage, Herbert was spotted with a mystery girl at his golf tournament.
Is Justin Herbert Scoring On And Off The Field? He Was Spotted With A Mystery Girl At A Golf Tournament https://t.co/qHHfY9x6G5

— SideAction (@SideActionHQ) July 22, 2021
Now we're finding out exactly who that mystery girl was. Allegedly Herbert is in a romantic relationship with his manager. She was the one he was spotted with in his golf cart at his golf tournament.
We recently received a tip explaining what's up with Herbert's love life.
See below: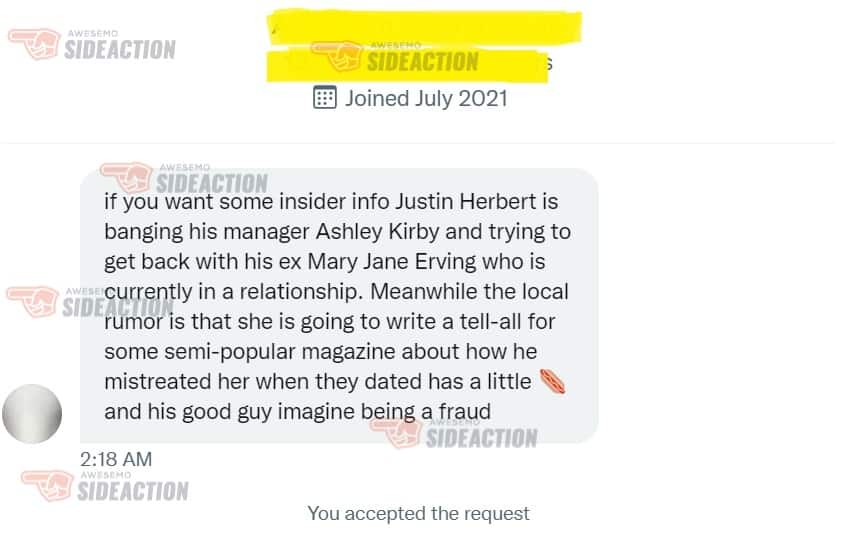 Here's a pic of Ashley's IG, which is set to private.

Now keep in mind this is just a tip, nothing has been confirmed or denied.
Whatever the case, Herbert will need to focus on his game if he wants to repeat his rookie success.
We'll just have to wait and see how that works out. . .
---
Welcome to the game outside the game! Follow us on our Sideaction Twitter handle, Instagram, and Facebook for the latest on sports and pop culture news across the web!