NBA superstar Steph Curry's wife is almost as famous as her NBA superstar husband. Ayesha Curry made an appearance on the Ellen DeGeneres show, and Ayesha showed off some things she simply has no use for. Curry played a round of 'Drawer Dash' with DeGeneres.
DeGeneres gave Curry 10 seconds to find something in her house that matched the description she was given.
For the first item, DeGeneres wanted Curry to grab something "you never want to see again".
Within 10 seconds Curry was back with,  her removed breast implants.
"I'm sorry, explain?" DeGeneres asked.

"These are my old implants," Curry said, unintentionally clapping them together, "and I've been waiting for the perfect moment to have like a going-away party for them because they weren't good to me, they didn't work for me, they work for some people, but they've got to go. And I don't ever want to see them again."

"Good for you!" DeGeneres said encouragingly as the virtual audience cheered. "Bye-bye, implants! Well we had a party for them on your Mother's Day show."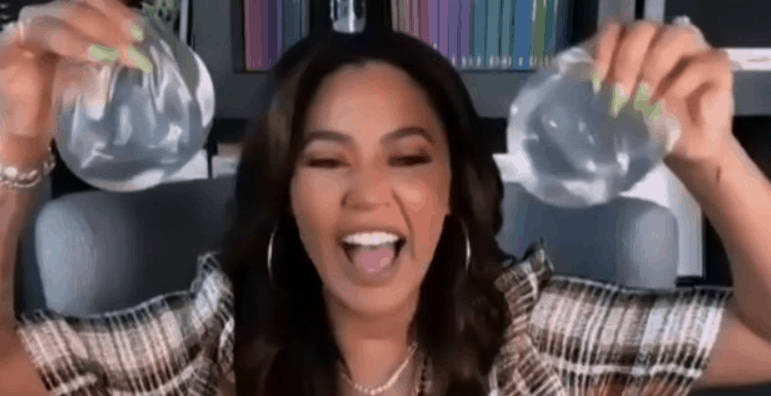 Watch below:
In a 2019 interview with Working Mother, Curry explained getting breast augmentation after welcoming her second child, daughter Ryan, hadn't gone the way she had hoped.
"I didn't realize at the time, but after having Ryan, I was battling a bit of postpartum that lingered for a while. It came in the form of me being depressed about my body," she said. "So I made a rash decision. The intention was just to have them lifted, but I came out with these bigger boobs I didn't want. I got the most botched boob job on the face of the planet. They're worse now than they were before. I would never do anything like that again, but I'm an advocate of if something makes you happy, who cares about the judgment?"
[sportsbookaffiliates]
Sounds like she got a real bad job.
Not sure why she's still holding onto those things.
Check out more pics of the now very natural Ayesha below:
---
Welcome to the game outside the game! Follow us on our Sideaction Twitter handle, Instagram, and Facebook for the latest on sports and pop culture news across the web!