If the name Mulan Hernandez sounds familiar, it should, she's NBA player Bol Bol's ex-girlfriend.
Ever since Bol Bol and Mulan Hernandez had linked up, all the signs pointed towards things turning eventually turning sour between the two soon.
And they finally did go their separate ways only months after Mulan had publicly accused the NBA player of cheating on her with eight different women. This came in the wake of Hernandez said to have cheated on Bol Bol with Stefon Diggs, allegations which she denied.
Bol Bol's Girlfriend Mulan Hernandez Accuses Him of Cheating With '7 or 8' Different Women https://t.co/DBbN2u59V4

— SideAction (@SideActionHQ) January 10, 2022
Now it appears Boston Celtics superstar Jayson Tatum has his eyes on Mulan.  The two are now following each other on Instagram.
See below: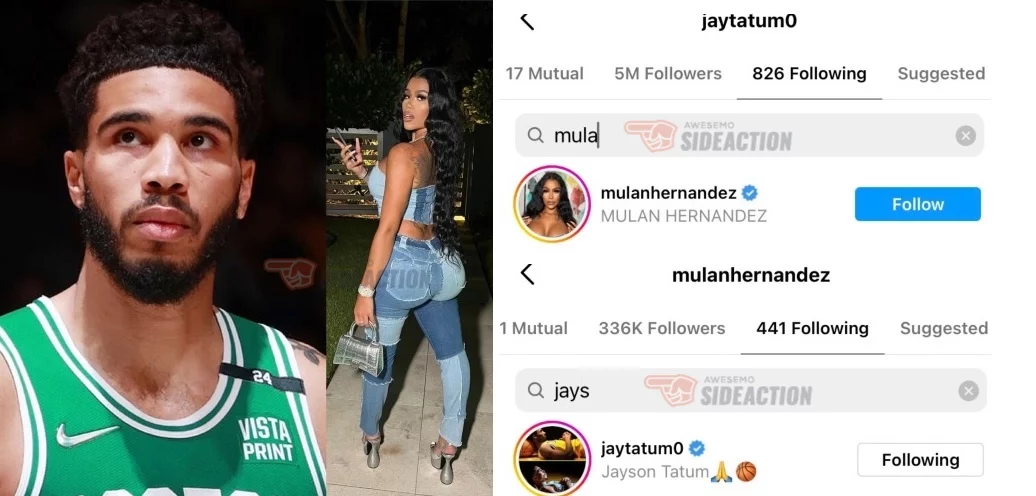 Jayson Tatum has been linked to a few woman over the last several years.
Jayson Tatum's Girlfriend Trending Ahead of Eastern Conference Finals https://t.co/AFAcWKcp4H

— SideAction (@SideActionHQ) May 17, 2022
But this follow back and forth is  definitely something to keep an eye on, and  you know we will.
Check out more of NBA girlfriend Mulan Hernandez:
---
Welcome to the game outside the game! Follow us on our Sideaction Twitter handle, Instagram, and Facebook for the latest on sports and pop culture news across the web!