Luka Doncic is overweight? Dallas Mavericks superstar Luka Doncic is entering his third season in the NBA.  So far he's been impressive exceeding even the highest of expectations. Now that Luka is getting a little bit older, at a ripe 22 years old, could his metabolism already being slowing down?  That's what Twitter seems to think.
[SportsbookAffiliates]
Over the weekend the Mavs played in a preseason game, and all the buzz was about Luka being overweight.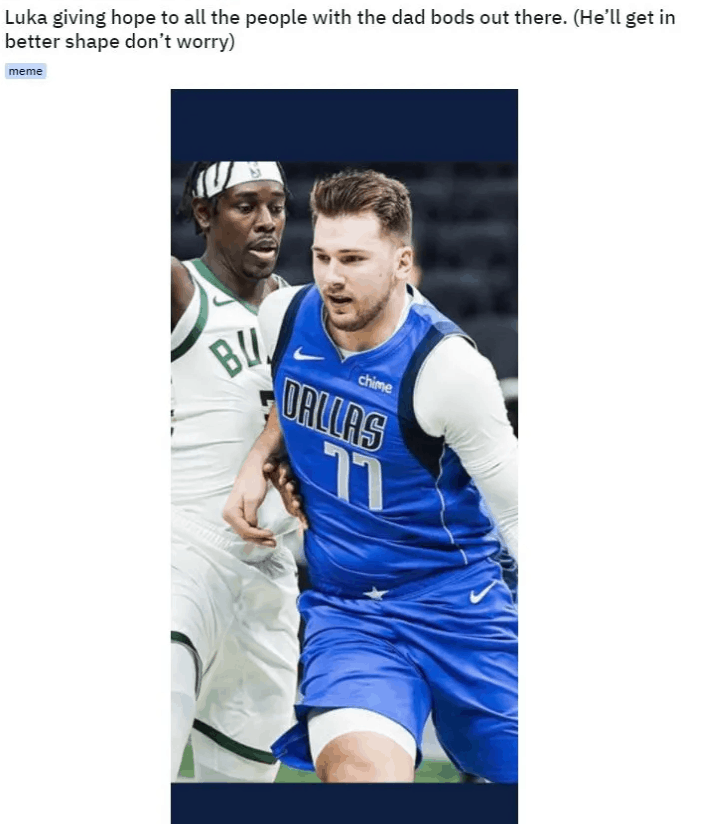 ---
Sideaction's Latest:
---
Check out all the tweets below:
why luka look fat as hell???? we gunna have to deal with his weight every year???

— Matthew (@mrivera713) December 14, 2020
up late thinking about Fat Luka

— dancer spinwiddie (@SnackPr0tein) December 14, 2020
Some people call him legit fat, some people act like it's a problem and people just have short term memory.

This happens every year and he's still the same old Luka on the court

— Dennis (@Mav_Zer0) December 14, 2020
Luka gonna take a step back this year. He came to camp overweight. Looks a little fat

— Zinky T (@ZinkyT232) December 14, 2020
@luka7doncic Luka Doncic will regress this year due to being fat. Inexcusable. Will average 25 ppg 8 rpg and 8 apg. Disappointing. Playing too many video games.

— Jamal Arrington (@ricodorean) December 14, 2020
Luka was looking real fat yesterday

— Mo Aziz – Mo Buckets (@Mo_Buckets87) December 14, 2020
Luka will be the first fat MVP since Barkley

— Marcus (@ma_henni) December 13, 2020
Fat Luka 🔥🔥🔥🔥 https://t.co/jBGzAv85ad

— Lightskin Jimmy Butler (@callmehuie) December 13, 2020
Looks like Luka is over weight lol 😂

— Grinding4life💰💰💰 (@goNgetitDB) December 13, 2020
We know about the Freshman 15, but have never heard of the 3rd year 30.  At any rate, Luka Doncic is going to fine, he needs his size in order to play the way he does.
A skinny Luka might just be ineffective.
---
Welcome to the game outside the game! Follow us on our Sideaction Twitter handle, Instagram, and Facebook for the latest on sports and pop culture news across the web!