Jaylen Brown is doing some stuff on Social Media.
On the very same day that Adidas cut ties with Ye, Jaylen Brown released a statement saying he was ending his relationships with Ye's agency, Donda Sports, after a string of antisemitic comments in recent weeks. Initially Brown was not going to leave, but quickly did a 180 on his decision. 
Brown joined Donda Sports around the same time and recently had said he would stay with the company, before changing course Tuesday.
"In the past 24 hours, I've been able to reflect and better understand how my previous statements lack clarity in expressing my stance against recent insensitive public remarks and actions," Brown wrote. "For that, I apologize. And in this, I seek to be as clear as possible. I have always, and will always, continue to stand strongly against any antisemitism, hate speech, misrepresentation, and oppressive rhetoric of any kind."
Adidas severed ties with Ye after the artist wore a "White Lives Matter" T-shirt at his Paris Fashion Week runway show. He followed that incident up by making antisemitic comments on Instagram and Twitter, including that he had constructed a plan to go "death con 3 on JEWISH PEOPLE."
Now it appears Jaylen Brown is revealing his true feelings about Ye and the entire controversy. Fans were noticing Jaylen's twitter activity, and found some pretty interesting likes.
See below: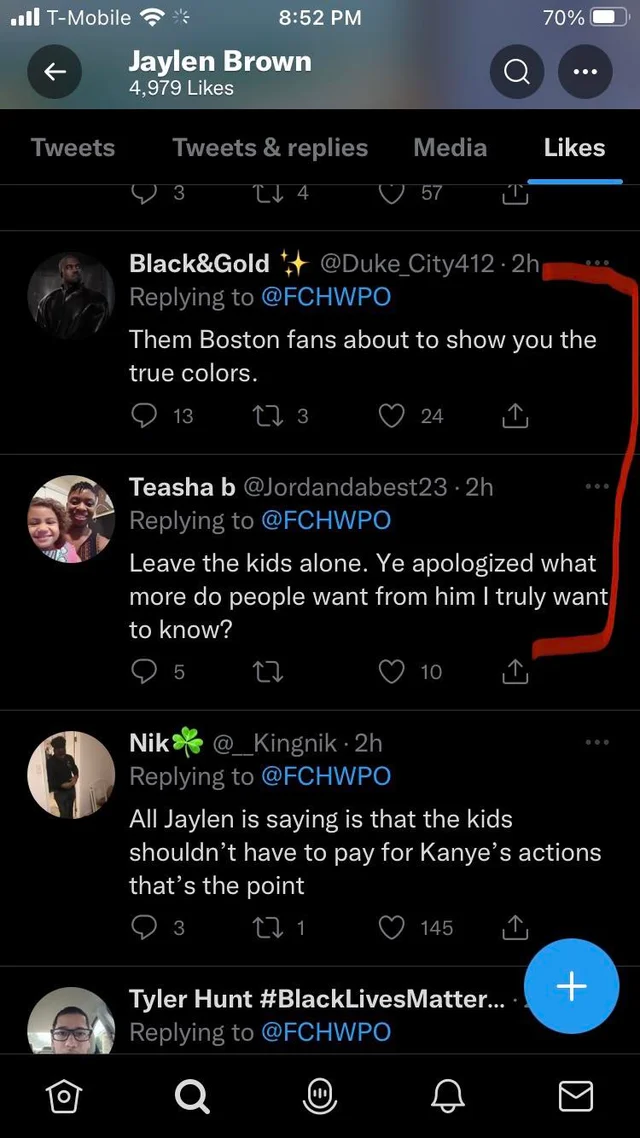 A few hours after this was discovered, Jaylen tried to cover his tracks and unlike the tweets, but it was too late. Jayle is once again liking tweets coming at Boston fans. And Kanye apologizing is enough to forgive rampant anti Semitic tirades?
Celtics fans don't miss a thing.
---
Welcome to the game outside the game! Follow us on our Sideaction Twitter handle, Instagram, and Facebook for the latest on sports and pop culture news across the web!