Houston Rockets superstar James Harden came under fire once again this week for reportedly attending a party at a strip club. The NBA caught wind of his latest extracurricular activity, and are investigating if James was actually doing something against NBA COVID protocols. Now James has taken to Instagram to set the record straight.
---
Sideaction's Latest:
---
See his post below: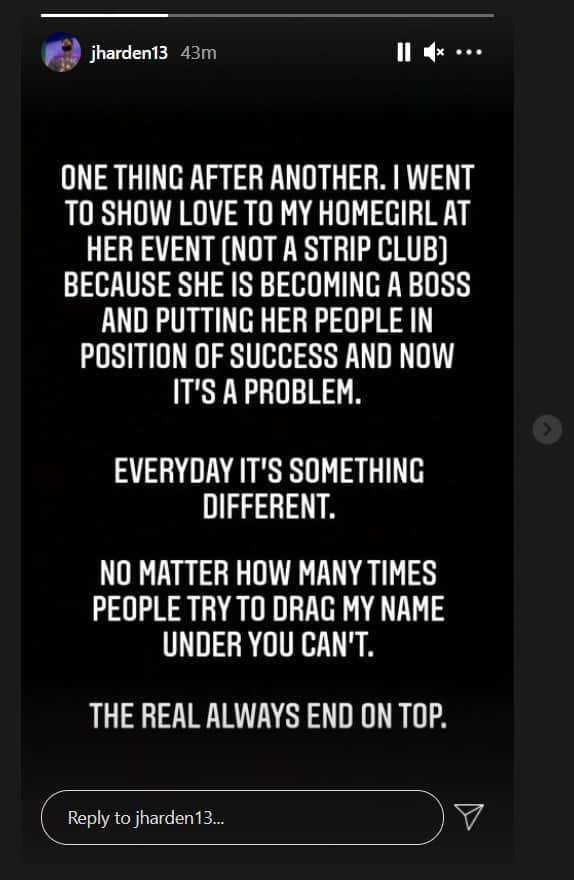 The internet responded:
https://twitter.com/HoustonXans/status/1341804482389262338
each line of this has at least one toxic cliché bro FUCK James Harden https://t.co/BUSUPYlITw

— dwayne.ii (@dwayneeyeaye) December 23, 2020
Lmfaooo something is legitimately wrong with him https://t.co/6Y3XFqF3dn

— TK 👩🏾‍🚀 (@kaftert) December 23, 2020
This mf LITERALLY was at the strip club wit Lil Baby wit a bag of honey buns and 100k in 1's tryna spin in into some women empowerment shit 😂😂😂😂😂 https://t.co/NxZyHy1hjR

— Jake Eff (@JakeStacksCake) December 23, 2020
It's literally protocol. That was sent out and was clear, and you're choosing not to follow. 🤦🏼‍♀️ https://t.co/ApB4wAkPAd

— Lauren (@LRMurphh) December 23, 2020
This is the response of someone who isn't sorry and just isn't capable of knowing what is right and wrong https://t.co/WPDRZJQuFy

— Nick (@FWBluesFan) December 23, 2020
He's so far removed from reality smh. https://t.co/9Oh2mXomEl

— Ikey & Sauce SZN (@eazilynunu) December 23, 2020
even if it wasn't a strip club (and we don't know for sure) the video was at an event and he clearly wasn't following protocols since he was maskless https://t.co/IOh7ooZY4i

— P (@P_Funk36) December 23, 2020
So he broke protocol yes? 🤣🤣 https://t.co/uLFVoiaQBt

— Black Sinatra Targaryen Zoldyck (@Todd_Gully) December 23, 2020
https://twitter.com/_dhuggs/status/1341800325875961857
James needs a new change of scenery. Things aren't going to smooth themselves out in Houston.
Several Houston Rockets, including John Wall, DeMarcus Cousins and possibly more, are expected to miss tonight's season opener vs. OKC due to coronavirus contact tracing, sources tell @TheAthleticNBA @Stadium.

— Shams Charania (@ShamsCharania) December 23, 2020
We'll see if James gets the chance to play tonight.
---
Welcome to the game outside the game! Follow us on our Sideaction Twitter handle, Instagram, and Facebook for the latest on sports and pop culture news across the web!