Is Floyd Mayweather engaged to a stripper? Undefeated boxing champ Floyd Mayweather loves his strippers. In fact, he loves stippers so much, he built his very own strip club. That's where this love story begins.  We introduced you to Floyd's new stripper girlfriend last week.
Floyd Mayweather Reportedly 'Dating And Planning Baby' With Girl He Met At His Strip Clubhttps://t.co/U1Blfmftzq

— SideAction (@SideActionHQ) January 14, 2021
Now reports are surfacing he's tying the knot with his employee.  She was spotted wearing an engagement ring: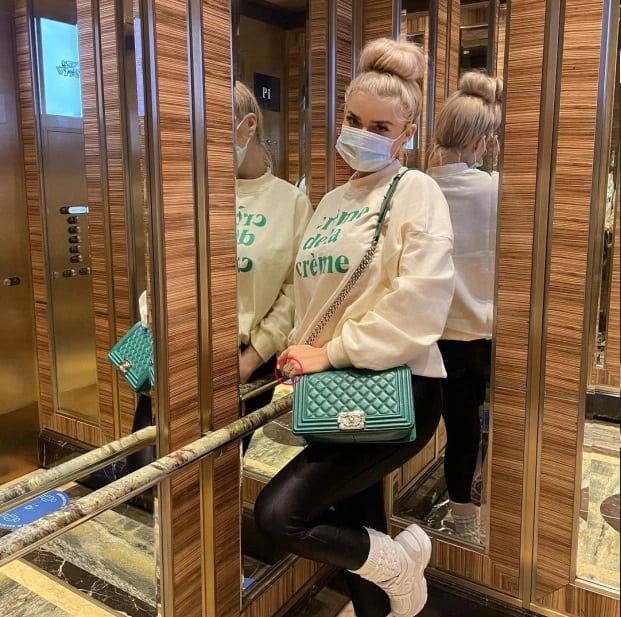 Via The Sun:
The boxing champ, 43, has proposed to Anna Monroe, 29, – head stripper at his Las Vegas club Girl Collection – shortly after news of their relationship was revealed by The Sun last week, the insider said.

Anna posted pictures on Instagram on Sunday in which she sports a huge diamond ring – believed to be her engagement ring – on her left hand.

According to the source, they are also planning to try for a baby this year.

"Floyd was annoyed at first that news of their relationship broke because he wanted to keep it private," the source told The Sun.

"They had an argument about it but soon made up.

"Anna has told family and friends she's getting married and wants to have a baby with Floyd this year.
Take a closer look at the alleged ring below:
TMZ however is disputing the report.
Floyd Mayweather Is NOT Engaged to Anna Monroe, Despite Giant Diamond Ring https://t.co/Gk6Ml1DctO

— TMZ (@TMZ) January 21, 2021
Floyd marrying a stripper sounds really on brand. It's really not that hard to believe.
If true, the next future Mrs. Ex Mayweather is one lucky girl.
---
Welcome to the game outside the game! Follow us on our Sideaction Twitter handle, Instagram, and Facebook for the latest on sports and pop culture news across the web!