The bad blood between the Los Angeles Clippers and Los Angeles Lakers continues to boil, creating drama and animosity even in a preseason bout. In a preseason game, the Lakers defeated the Clippers 87-81 despite LeBron James and Anthony Davis resting for the match. Newly acquired players Dennis Schroder and Wesley Matthews represented the backcourt while Montrezl Harrell logged a 13-point, 12-rebound double-double as center. Harrell burned the Clippers in favor of joining the Lakers, making the rivalry even more intense.
With Harrell's strong performance, trash talking ensued between him and Patrick Beverley.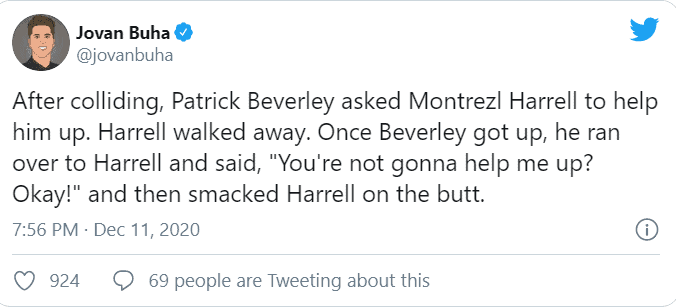 Harrell and Patrick Beverley used to represent the Clippers' bench together and added a necessary fire to the Los Angeles Clippers squad. With reports surfacing that Paul George and Kawhi Leonard not speaking to the media for 45-minutes after a game, they became the voices of the franchise. Their friendship soured when Harrell departed for the Lakers.
Beverley made sure to taunt and tease every time Harrell missed a shot, while pulling out his other antics to get under his opponents' skin.
Kawhi Leonard and Paul George suited up, but combined for just 13 points in 28 minutes.
---
This Week in Sideaction:
---
After the famous implosion against the Denver Nuggets, the Clippers attempted to retool to compete with their LA-rival. While losing Montrezl Harrell, they re-signed Marcus Morris for $64 million and grabbed Serge Ibaka from Toronto.
The Los Angeles Lakers and the Los Angeles Clippers kick the season off in a season-opening battle Dec 22.
---
Follow us on all of our social channels! Check out our Twitter, Facebook, Instagram and YouTube for more great Awesemo content.