Miami Heat superstar Jimmy Butler is a man of mystery.
He's not exactly an open book when it comes to his personal life.
In October 2019, shortly after signing with the Miami Heat in free agency, Butler welcomed a baby girl into the world with model Kaitlin Nowak.
Jimmy missed the first three games of the 2019-20 season against the Memphis Grizzlies, Milwaukee Bucks, and Timberwolves to attend to his daughter's birth.
Miami head coach Erik Spoelstra congratulated his new star via ESPN:
"Jimmy Butler is now a proud father to a baby daughter," Spoelstra [said]. "We're thrilled for him, and we're really excited."
The new parents haven't made their child's life or relationship public on social media at all.
---
Related
---
Jimmy also wanted no part of family in the bubble.
"This is a business trip for me. I'm not messing around. Everyone wants to have their family, without a doubt. But we've been doing this for this long, what's another couple of months? It is an individual decision and I respect that decision that my teammates make but I'm here for business."
But it appears his baby mama has been following the NBA Playoffs. Kaitlin Nowak went on IG to show her support.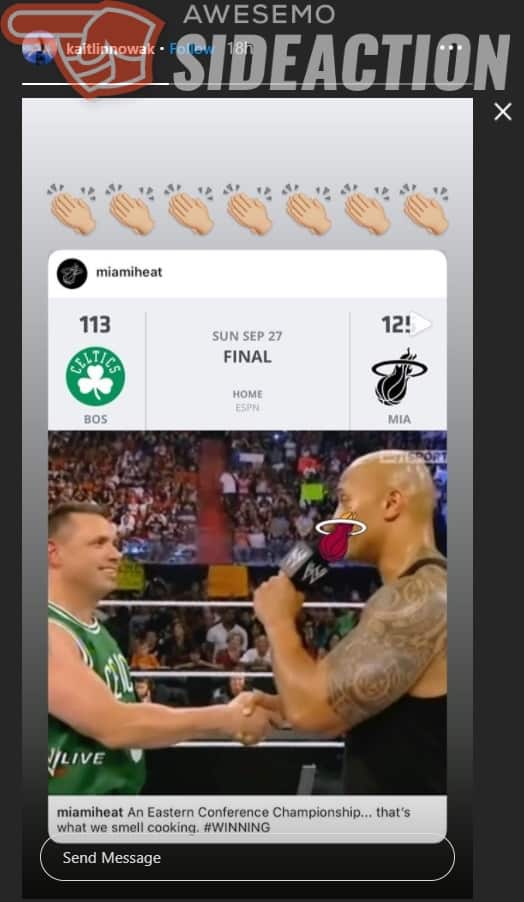 Good to see everyone on the same page.
Check out more of Jimmy Buckets' baby mama below:
https://www.instagram.com/p/BSjaEcTgfIq/
https://www.instagram.com/p/BMziqjIhNPn/
https://www.instagram.com/p/BtRgOMEBCTe/
https://www.instagram.com/p/BF1smhMulKi/
---
Welcome to the game outside the game! Follow us on our Sideaction Twitter handle, Instagram, and Facebook for the latest on sports & pop culture news across the web!