Brittney Palmer and Arianny Celeste are the real OG's of Octagon girls. They've been doing their thing for a very long time, and naturally when someone comes for your profession, you're not going to take too kindly to it. Palmer and Celeste are none too pleased with Khabib's assessment of ring girls.
Khabib Nurmagomedov Savagely Slams UFC Ring Girls as 'Useless' https://t.co/3QTs2YcU5y

— SideAction (@SideActionHQ) August 25, 2021
Brittney tacked on to a Conor McGregor tweet that took aim at Khabib.
Hahahah sorry not sorry! 😝 https://t.co/9m3ND2alJg

— Brittney Palmer (@BrittneyPalmer) August 31, 2021
"Sorry we make you uncomfortable," said Celeste, before dancing around a lounge in a tight black outfit.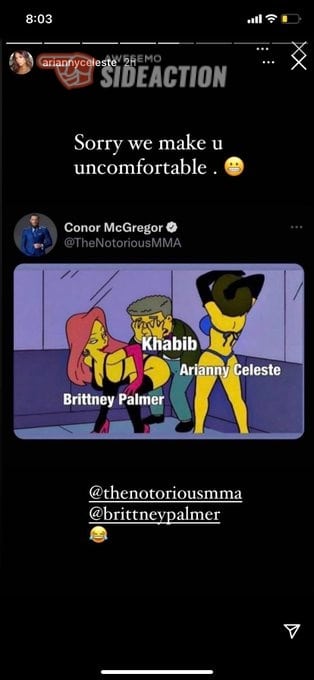 Khabib has definitely not made any new fans with his comments.
MMA and ring girls will forever be entwined, there's not much you can do about it.
Check out more of the beautiful ring girls below:
---
Welcome to the game outside the game! Follow us on our Sideaction Twitter handle, Instagram, and Facebook for the latest on sports and pop culture news across the web!