Antonio Brown is on the warpath.
Tom Brady and his trainer Alex Guerrero are now his latest targets. As Brown shared texts from people like Bruce Arians, he posted one exchange with Tom Brady's trainer Alex Guerrero.
AB called out Brady in the Instagram story version of the post, and referred to the quarterback indirectly on Twitter.
On Instagram, the caption read: "(Tom Brady's) guy (Alex Guerrero) charging me 100k never doing the work on me! how u even work wit people like this! This what I was dealing wit."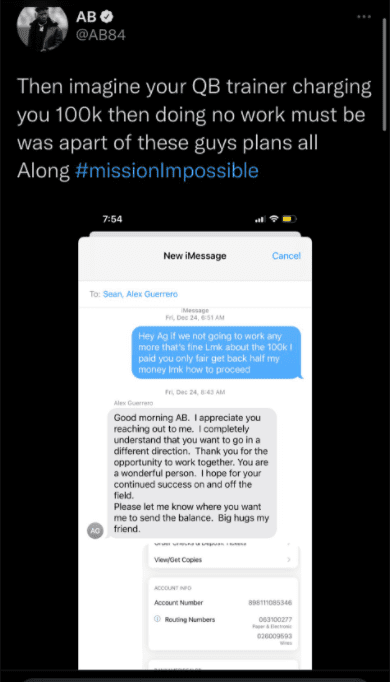 Brown paints the situation as him getting screwed out of money.
Brady asked people to show compassion to Brown in the aftermath of what happened Sunday. We'll see if this begins to fracture their relationship.
When you go at Alex Guerrero, you're also coming for Tom Brady.
---
Welcome to the game outside the game! Follow us on our Sideaction Twitter handle, Instagram, and Facebook for the latest on sports and pop culture news across the web!