Alvin Kamara and Te'a Cooper are apparently still going strong. The NFL season is less than a week away from kickoff, but that doesn't mean Alvin Kamara isn't taking in some other sporting events. The NFL star was spotted courtside at a WNBA game. The Los Angeles Sparks took on the Minnesota Lynx, and New Orleans Saints star running back Alvin Kamara was front and center cheering on his rumored girlfriend Te'a Cooper.
See the screenshot below: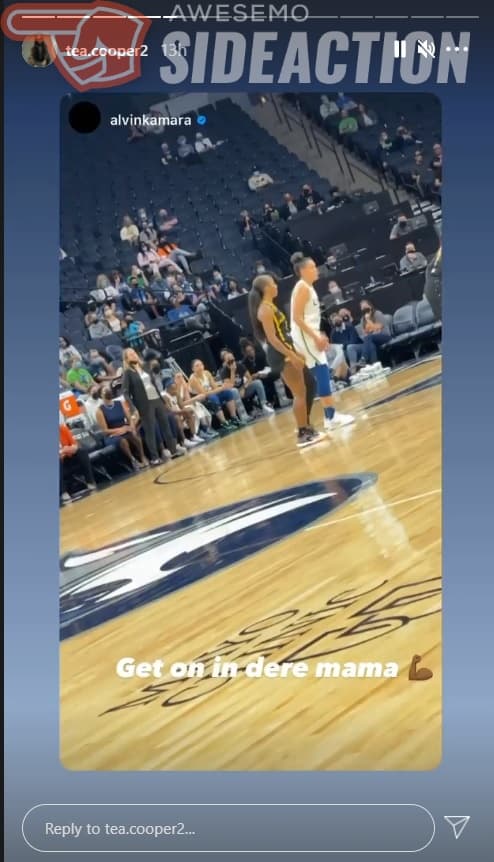 Twitter was all also over it:
So Kamara fuckin with Te'a Cooper? I ain't even mad at bro

— The Most Hated😎 (@StarTheChosen1) September 3, 2021
Alvin kamara done got tea cooper

— Suge (@Sugegee1) September 3, 2021
Alvin Kamara & Te'a Cooper are dating and I think it's so cute 🥺🥺🖤

— HEIR JORDANN (@Im_JordannTho) September 3, 2021
The two were first linked back in July.
Alvin Kamara Spotted With Dwight Howard's Ex Te'a Cooper 👀 https://t.co/rsOd8l7cEB

— SideAction (@SideActionHQ) July 27, 2021
Dwight Howard was allegedly married to Te'a Cooper, so not sure if they're getting divorced, or they never officially got married.
Te'a Cooper Confirms She and Dwight Howard Are Officially Broken Up https://t.co/Xsh44FoTYi

— SideAction (@SideActionHQ) April 27, 2021
Either way it's football season, and Alvin Kamara is now in the driver's seat.
Check out more of Te'a Cooper below:
---
Welcome to the game outside the game! Follow us on our Sideaction Twitter handle, Instagram, and Facebook for the latest on sports and pop culture news across the web!