Is Zion Williamson ready for a bounce back season of epic proportions?
Zion Williamson dealt with an extremely difficult 21-22 season in which he had to miss the entire regular season and playoffs due to a broken foot. Williamson received criticism from pretty much everyone:
"It's been a lot," said Williamson. "I can sit here and explain it, but nobody will really be able to feel it the way I did. My foot was broken and I couldn't magically heal it. It hurt, because I love the game of basketball. But because of it I was experiencing hate and pain from people I don't know every day, and it started to wear on me."
Williamson hired Jasper Bibbs as his personal trainer and Christian Green to manage his nutrition. Williamson and the New Orleans Pelicans signed a five-year, $193 million extension that could climb to $231 million if he makes an All-NBA team this season. But what about if he wins MVP.  Now that would be pretty huge for anyone who is willing to take a gamble on Zion.
According to Fanduel, Zion Williamson's MVP odds are currently listed at +3600.
You can see all the MVP Odds below: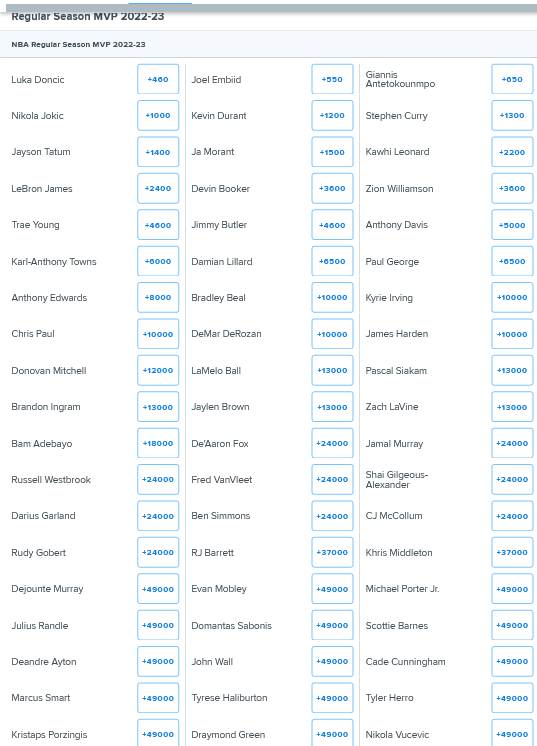 All NBA fans pretty much agree that Zion Williamson has the potential to be a generational superstar, but his health is always going to be a concern.
If Zion can figure out a way to stay healthy all season long, you better believe he'll be in the MVP running. It's more like you're betting on his health than anything, because we know the guy is a beast when he's right.
---
Welcome to the game outside the game! Follow us on our Sideaction Twitter handle, Instagram, and Facebook for the latest on sports and pop culture news across the web!