Miami Heat budding superstar Tyler Herro has made a name for himself during the NBA playoffs. He's elevated his game and fame to new heights. Herro, after sinking a layup in the final minute of their 115-104 win against the Los Angeles Lakers in Game 3 of the NBA Finals, broke out a wild mean mug snarl, which exploded on the internet.
Still not over this.@MiamiHEAT @raf_tyler #NBAFinals pic.twitter.com/6gnI6lVPIB

— GIPHY Sports (@GIPHYSports) October 5, 2020
Herro finished with 17 points and three rebounds while shooting 6-of-18 from the field. Miami star Jimmy Butler dropped a 40-point triple-double, leading the Heat to their first win in the series.
Now with the increased notoriety, more eyes are on Herro now than ever before, and Tyler may have possibly bitten off more than he can chew.
---
Related
---
We received a screenshot of a DM he sent to IG model Brooke Miranda, and normally this wouldn't be a big deal at all, but Herro has a girlfriend, one Katya Elise Henry. 
From our Source:
"It was said on Twitter that Katya Elise Henry was cheating on Tyler Herro with his "homie" but it seems that the 20 year old himself is cheating himself. He recently DM'd an IG  model @brookelewisss and she put him on blast for being with Katya but still trying to get with other girls."
Here's the screenshot below: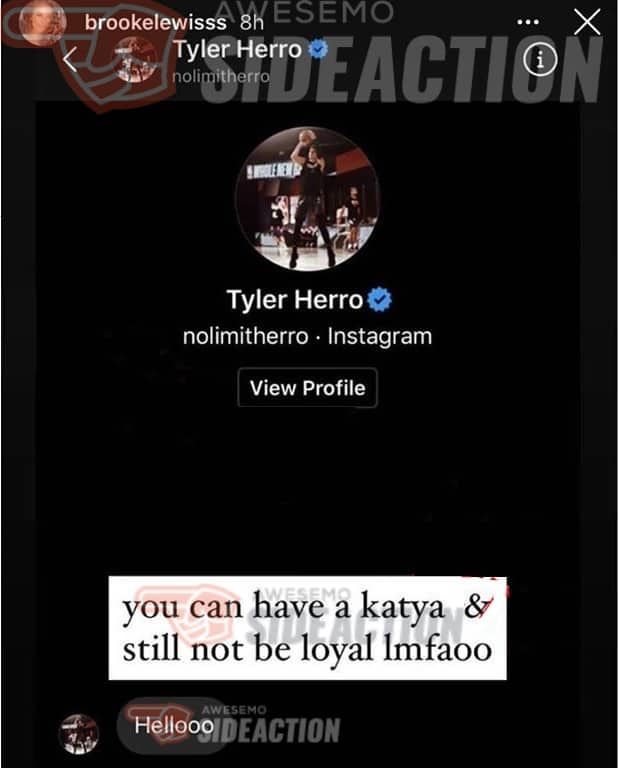 It's amazing to think that one would be interested in any other women when Katya Elise Henry is your GF.
I mean, take a look below:
Check out more of Tyler's DM girl below:
https://www.instagram.com/p/CEXqegfFu3Z/
https://www.instagram.com/p/CDCvLfIlT3Y/
https://www.instagram.com/p/CCmdcMSFSwx/
Tyler Herro sure has a type.
---
Welcome to the game outside the game! Follow us on our Sideaction Twitter handle, Instagram, and Facebook for the latest on sports and pop culture news across the web!