If you're unfamiliar with Stephen A. Smith, that means you've been living under a rock. His signature voice fills ESPN's airwaves, and he also so happens to be the highest paid on air personality at the Mothership. He's also very much a strong presence on Social Media, especially when the Cowboys lose:
COWBOYS!!!! 😂😂😂 pic.twitter.com/oi655PctBz

— Stephen A Smith (@stephenasmith) October 4, 2020
Naturally with much success, comes much curiosity.
And people are always interested in athletes private lives, but even more so, with dudes who get paid to talk about athletes.
The man known as "Screaming" A. Smith was spotted on a date this week, and the girl who was lucky enough to escort him to lunch, appeared much younger.
See the pics below: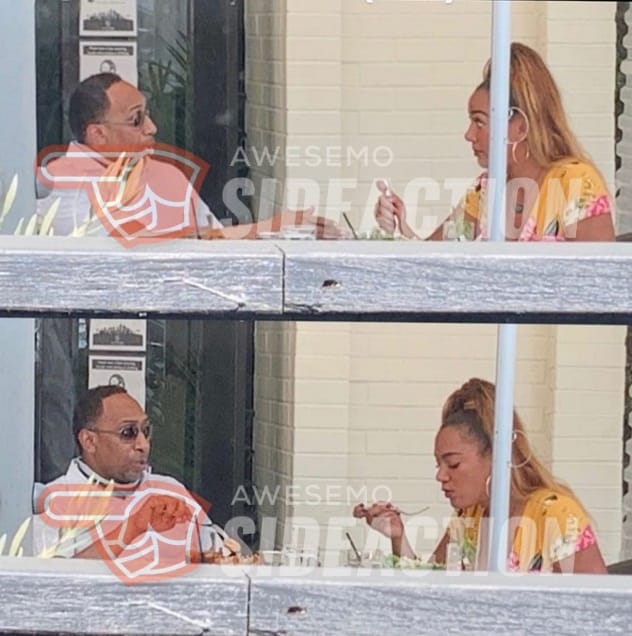 Stephen A. is single and has no history of dating or marriage. He is one celebrity who has never gone public with his love life. Stephen was allegedly once engaged to a woman whose identity is not revealed, but the relationship ended before they could tie the knot.
GQ Magazine tried to question him about the reasons behind the breakup, but Smith declined to offer more details. However, he did reveal that he has two daughters who are 1 year apart in age. He told GQ that his daughters offered hope after his mother died;
"It's a blessing, but that love is also a curse, because you're never, ever at peace."
Ironic the man who can never stop yapping is so tight lipped about his love life. Let's see these pics make the rounds, maybe he'll have to address if it goes viral enough.
---
Welcome to the game outside the game! Follow us on our Sideaction Twitter handle, Instagram, and Facebook for the latest on sports and pop culture news across the web!