Baseball is a random sport with random events and random players. There's something especially nostalgic about random MLB players when that, "Oh yeah, I remember that guy," pops up. The actual definitions of "random" are below according to Oxford Dictionaries:
made, done, happening, or chosen without method or conscious decision:

"a random sample of 100 households"

governed by or involving equal chances for each item:

"a random sample of 100 households"

(of masonry) with stones of irregular size and shape.

unfamiliar or unspecified:

informal, derogatory

"are you going to take some random guy on Twitter's word?"

odd, unusual, or unexpected:

informal

"the class was hard but he was so random that it was always fun"
an unknown, unspecified, or odd person:

informal

"I just sat down by myself and talked to some randoms"
Other than "(of masonry) with stones of irregular size and shape," these definitions can help in compiling a definitive list of the most random MLB players of the late '90s to mid-2000s. The most "random" players of course peaked in your childhood which probably has a lot to do with the era of collecting baseball cards and MVP Baseball. For me, that's the late 90s to mid 2000s, when we didn't give a shit about steroids running rampant in the MLB and just enjoyed the show. It truly was simpler times.
Here are five completely random MLB players that you haven't thought about in years:
5. Quinton McCracken
Quinton McCracken is very random and also has one of the great names in baseball. McCracken played 12 seasons as a big league outfielder for a whole bunch of random teams, including the expansion Tampa Bay Devil Rays in 1998. In fact, Quinton was actually the first ever batter in the history of the Tampa Bay Rays franchise back in 1998. It's true! He grounded out to short in that at-bat. He's also the first Devil Ray ever to ground into a double play, which is a pretty cool distinction to tell your grandchildren about.
When you search Quinton McCracken on YouTube, the No. 1 video is Ken Griffey Jr. throwing him out at home:
The No. 2 video is an at-bat he had against former Reds closer Danny Graves in a Long Island Ducks/Bridgeport Bluefish Independent League game back in 2007. That is indeed very random. McCracken was a career .274 hitter and recorded 20 career sacrifice flies as most McCracken STANs already know.
4. Wily Mo Pena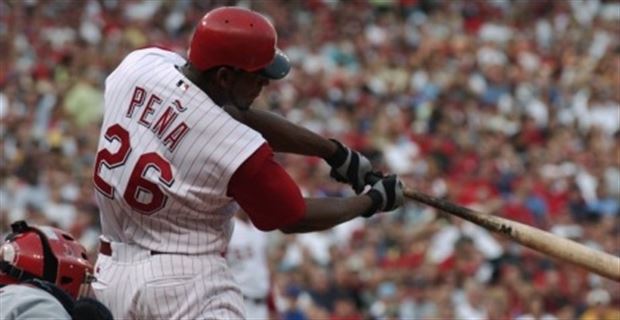 Speaking of the Reds, Wily Mo "Money, Mo" Pena hit a homer back in 2005 that just landed in my living room a couple of hours ago. Wily Mo is just one of those ultimate "I remember that guy" guys. Known for his prolific power, his YouTube search features this homer that went an estimated 550+ feet:
Here's one from the Majors that reached the third deck at Great American Ballpark:
Wily Mo was a .250 career hitter and is the MLB's all-time leader in homers among players named  "Wily Mo" with 84 in parts of eight seasons for the Reds, Red Sox, Nationals, Diamondbacks and Mariners. His best season came in 2004 when he launched 26 homers for the Reds, 14 of which are still in orbit somewhere.
---
Related
---
3. Buddy Groom
Did you know that lefty specialist Buddy Groom holds the record for the fewest holds in a single season among a league leader? Groom recorded 27 holds in 1999 for the Oakland Athletics which is the LEAST amount of holds ever for a league leader in that category, barely edging John Johnstone who had 28 for the Giants in 1999. 1999 was just not a good year for holds.
Also, look at that fucking mustache. Great mustaches get you bonus random points. Buddy played 14 big league seasons for the Tigers, Marlins, A's, Orioles, Yankees and Diamondbacks. Buddy held a career .4.94 ERA and led the entire league in games played among pitchers in 1999 with 76. In fact, Buddy is 55th all-time in most games played among pitchers with 786 and also has appeared 69 times on the lineup card as a batter, but has never received a plate appearance.
Naturally, people also search for Paul Quantrill on Google when searching for Buddy Groom. Makes sense.
2. F.P. Santangelo
Arguably the greatest name in modern baseball history, even better than Quinton McCracken, F.P. Santangelo spent the majority of his career as a utility player for the Montreal Expos which is just about as random as it gets. F.P. was the definition of a gritty baseball player. Santangelo consistently ranked among the league leaders in hit by pitches. Imagine what he could have done with regular playing time!
In 1997, F.P. was third to only Craig Biggio and Jason Kendall with 25 hit by pitches. Biggio is widely considered the king of getting plunked, but F.P.'s career 162 game average of 20 hit by pitches is actually FOUR higher than Biggio's. You just have to respect Santangelo's commitment to getting on base.
In case you didn't think F.P. could get any more random, this guy played all over the diamond. Just give him a glove and send him out there. F.P. played every position in his career except catcher, first base, and pitcher. In 1996, he finished fourth in rookie of the year voting while playing six different positions for the Expos. That's versatility that you just can't teach.
F.P. is currently a TV broadcaster for the World Series champion Washington Nationals and I enjoy his commentary immensely. Follow him on Twitter!
1. Ruben Rivera
This was a tight call with F.P., but the purveyor of the worst baserunning play in history gives Rivera the edge in the randomness department. Shoutout to the Marquis Grissom-David Dellucci combo for some added random bonus points. Here's the video from 2003:
To this day, Rivera is still trying to touch second base. This was Rivera's only season with the Giants and his last season in the MLB. Rivera was a highly touted Yankees prospect, but was primarily a backup outfielder over nine seasons for the Yankees, Padres, Reds, Rangers, and Giants. However, he did serve as the Padres starting center fielder in 1999 and 2000.
Rivera was never a force at the plate with a career .216 batting average and 64 career home runs (and he definitely wasn't known for being heads up on the basepaths). Rivera was also among the league leaders in errors committed among center fielders and strikeouts while starting for the Padres.
So what did Ruben Rivera do exactly? He could throw. Rivera turned five double plays in the outfield from 1999 to 2000 and was second in outfield assists in 2000 with 10. He was also traded from the Yankees to the Padres in a deal that included Homer Bush which is just the type of randomness you can't teach.
One thing Ruben did do is step up when it counted most. This was a man who won a World Series with the Yankees in 1996 and appeared in the World Series against the Yankees just two years later as a San Diego Padre. Rivera's teams won five out of six playoff series in which he appeared in with the only loss being that 1998 World Series against the Yankees. Rivera did all he could in that one with four hits in five at-bats that series.
---
Check us out on TWITTER, where we talk sports, share articles, and have lots of giveaways!