It didn't take a genius to see that young Miami Heat big man Bam Adebayo had a ton of potential in previous seasons. NBA fans could see it, his fellow teammates could see it, and most importantly his coach Erik Spoelstra saw it.
But how good Bam has gotten may be something of a surprise to people out there, even Heat legend Dwyane Wade. But it shouldn't be a surprise for him … since Bam texted D-Wade his EXACT stat line that he'd post this season:
---
The NHL is back and you can get your first month of Awesemo+ NHL for 50% off when you use promo code SIDEACTIONNHL at checkout. That's only $20 for 31 days of Awesemo's leading NHL DFS projections, ownership projections, Top Stacks tool and more! You better hurry because this offer is only valid through Friday, Aug. 7!
---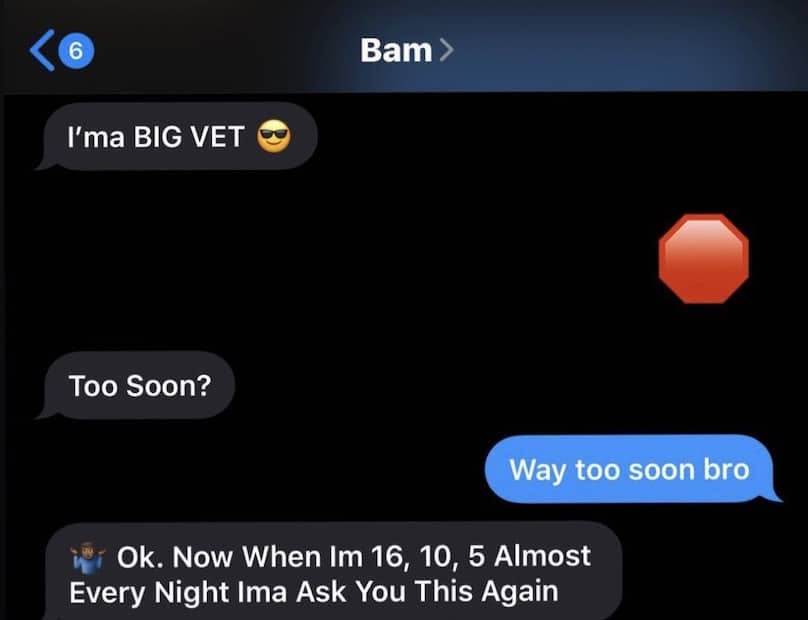 Believing in yourself is something important for everyone, whether you're a stud basketball player or not. But the self-awareness Bam showed in his belief in himself is what really gets me here. He didn't say he'd put up Giannis numbers. He didn't say he'd get a triple-double. He set a difficult but achievable milestone for himself and he went out there and got it. He's the Big Vet now that Dwyane Wade has moved on to … whatever Dwyane Wade has moved onto.
I'll certainly never question Bam Adebayo's knowledge of his own basketball game again. I will, however, question his usage of every word being capitalized. Maybe that's just how Big Vets do things. Should I Start Capitalizing Every Word To Fully Realize My Potential? Hard To Say. Hard To Say.
---
Welcome to the game outside the game! Follow us on our new Sideaction Twitter handle for the latest on sports & pop culture news across the web!