Miami Heat superstar Jimmy Butler is going Hollywood with Selena Gomez? Before stepping out for the night, the NBA star known as Jimmy Buckets got himself a long-overdue haircut. Butler shared the vlog on his YouTube channel, where he talked about the nightlife in Miami while getting his unruly locks chopped off.
"Ahh man, I haven't been out one time. I have been to dinner twice. I've hosted a couple of events, which was legit. You know, the Super Bowl was here, so we did that. Other than that, man, I be in the house."
Jimmy Butler has definitely brought his sexy back.
It seems Jimmy is fresh to death with his new cut, ready for his closeup, as he was spotted on a date with Selena Gomez at Lucien in New York over the weekend.
See the scoop below: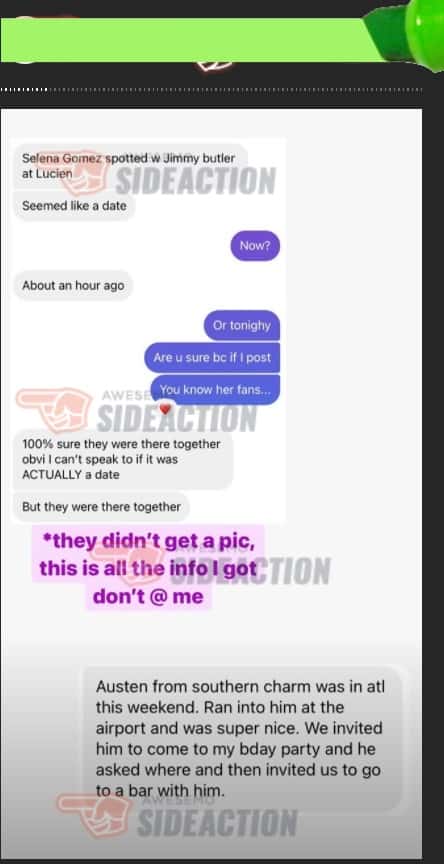 Jimmy Butler and Selena Gomez would be a serious power couple. Jimmy does have a baby mama, the two were recently spotted spending some time together on a Yacht. But all signs point to him being a single man.
---
Related
---
Selena Gomez dated Justin Bieber in 2011 and the couple endured an on-off relationship before finally calling it quits in 2018. The Only Murders in singer/ actress insisted she is 'totally cool' with being single because there are so many good things about being alone in her late 20s.
Maybe the stars have aligned for Jimmy Butler and Selena Gomez. We will not be waiting long before seeing what this could do for the Miami Heat star's game, the NBA season starts on December 22nd.
Check out more of Selena below:
---
Welcome to the game outside the game! Follow us on our Sideaction Twitter handle, Instagram, and Facebook for the latest on sports and pop culture news across the web!