Houston Texans star Quarterback Deshaun Watson's love affair with massages continues. Watson used Instagram to find his massage therapists. He would reach out if he wanted to get in touch with someone via DM.  In total there are 19 women who have filed civil lawsuits against Deshaun Watson alleging sexual assault and misconduct. Most of them are massage therapists.
Look below at Watson's DM reaching out for a massage: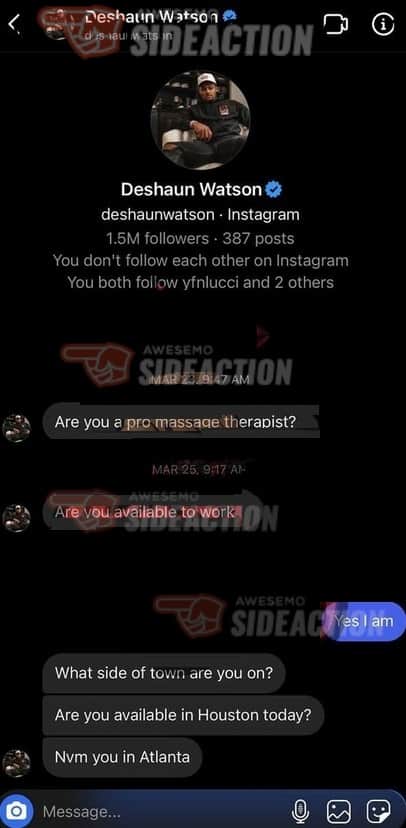 Who knows how many people Watson reached out to via DM? You miss 100% of the massage shots you don't take.
Deshaun is currently facing zero criminal charges but attorney Tony Buzbee has filed lawsuits on behalf of the 19 different women alleging sexual assault and misconduct by the 25-year-old during massage appointments, per USA Today.
Houston Texans quarterback Deshaun Watson is now facing lawsuits from 19 women, one of whom also claims that he is deleting Instagram messages. https://t.co/VTyg8tIeCM

— USA TODAY Sports (@usatodaysports) March 29, 2021
Clearly the man loves a good massage. If only he stayed away from Social Media.
---
Welcome to the game outside the game! Follow us on our Sideaction Twitter handle, Instagram, and Facebook for the latest on sports and pop culture news across the web!