Will Milwaukee Bucks superstar Giannis stick things out in Wisconsin, or is he ready to move on?  Antetokounmpo hasn't signed his five-year supermax extension with the Milwaukee Bucks yet, which is probably making Bucks fans pretty nervous.  This very well could mean he'll play out his current contract and become a free agent.
A strange post by his barber has sparked rumors he's going to be on his way out.  The Bucks team barber posted a thank you to Giannis. Apparently he then changed the post.
"Love you bro and go do what's best for your family"
See the tweet below:
Bucks' team barber makes post thanking Giannis for the past 6 years

"Love you bro and go do what's best for your family!"

(Via r/nba) pic.twitter.com/NzPXIhfelb

— NBACentral (@TheNBACentral) December 14, 2020
Twitter reacted:
Its happening pic.twitter.com/K0uwV4Wxex

— Siakam SZN 🙁 (@hyosultmma) December 14, 2020
Welcome to Portland pic.twitter.com/ZezHeo2yEx

— 🅵🅾🆁🆃🅷🅴🅵🅰🅽🆂 🎙 (@503Blazerfans) December 14, 2020
https://twitter.com/KobeSexuaI/status/1338298339478134784
That's crazy, our dreams are actually gonna come true pic.twitter.com/547gf13f3X

— 🐺 NEW ERA (43-33) (@WolvesGotNext) December 14, 2020
LMAO this has got to be one of the ugliest edits I've ever come across

— Anthony Khatchadourian ✪ (@Raptorswave) December 14, 2020
hmmm it looks like the Insta post has been deleted…?

— Lori Nickel 🇺🇦 (@LoriNickel) December 14, 2020
It's happening pic.twitter.com/hLI32a98Mq

— Empire State Of Mind (@CIyde10) December 14, 2020
It's time pic.twitter.com/3EHmyJtT86

— bryce (@theyhatebryce) December 14, 2020
He may be implying that one of them could stop doing business with the other for certain reasons!

— Sports Gambling Guides (@SGG_hq) December 14, 2020
Who knows, maybe the Barber's contract with the Bucks is up? Not sure Giannis would tell his barber about his free agency plans. If so, that was one hell  of a leak.  He later went on IG to clarify his post was misconstrued: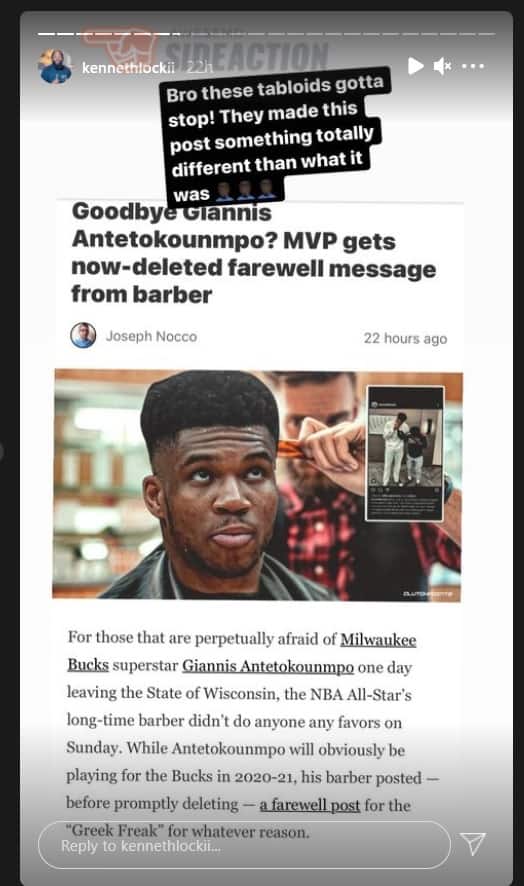 They are definitely pretty close, see his old post below:
Time will tell if his barber was talking about him leaving the Bucks.
---
Welcome to the game outside the game! Follow us on our Sideaction Twitter handle, Instagram, and Facebook for the latest on sports and pop culture news across the web!