Looks like Khloe Kardashian has a new boyfriend.
Tristan Thompson admitted to having a 3-month sexual relationship with a woman who is suing him for child support all while dating Khloe Kardashian.
Maralee Nichols claims she and Thompson had a baby together on December 1. Thompson has denied the paternity of the child.
Court documents say Thompson and Nichols reportedly met "sporadically" from December 2020 to March 2021.
Maralee Nichols Releases Statement After Tristan Thompson Apologizes For Getting Her Pregnant https://t.co/55szZpSNvT

— SideAction (@SideActionHQ) January 6, 2022
To make matters worse for Tristan, he was recently spotted with another woman in Milwaukee.
Tristan Thompson Gets Into Altercation After Being Caught at the Club in Milwaukee With Yet Another Girl https://t.co/gODisd0RtR

— SideAction (@SideActionHQ) January 27, 2022
Now it appears Khloe is ready to move on. According to an anonymous tipster sent to IG Account Deuxmoi, Khloe is currently dating reality star Harry Jowsey.
"One of my closest friends works at a very well known PR agency in LA & it's confirmed that Khloe Kardashian and Harry Jowsey are talking. Apparently they've been DM-ing back and forth & texting & then last night he picked up a Bentley and flowers just to deliver them to her house" 
See below: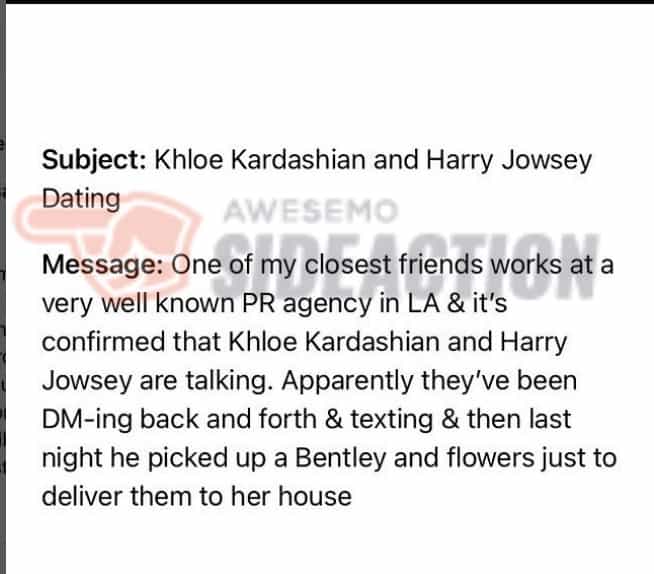 If you're unfamiliar with Jowsey, he was on the hit Netflix show "Too Hot to Handle"
Kardashian and Thompson, who share a daughter named True, have been in an on-again, off-again relationship since 2016.
Good to see Khloe on the rebound. Tristan shouldn't be the only one to have some fun.
Check out more of Harry Jowsey's new fling Khloe below:
---
Welcome to the game outside the game! Follow us on our Sideaction Twitter handle, Instagram, and Facebook for the latest on sports and pop culture news across the web!