Derek Fisher shooting his shot at Vanessa Bryant? It was a star filled event at the 2021 WNBA All-Star Game in Las Vegas this week. Vanessa Bryant paid homage to her late daughter Gianna and her late husband Kobe at the annual game. But it wasn't the tribute Vanessa paid that had people talking. It was a picture that surfaced showing former Kobe Bryant teammate Derek Fisher sitting next to Vanessa Bryant that had people talking.
[SideAction-ad-group]
Of course Twitter assumed the worst.
See the picture below:
Vanessa Bryant and family with Derek Fisher pic.twitter.com/Fjmd6p4VFZ

— CJ Fogler AKA Perc70 #BlackLivesMatter (@cjzero) July 15, 2021
Take a closer look below: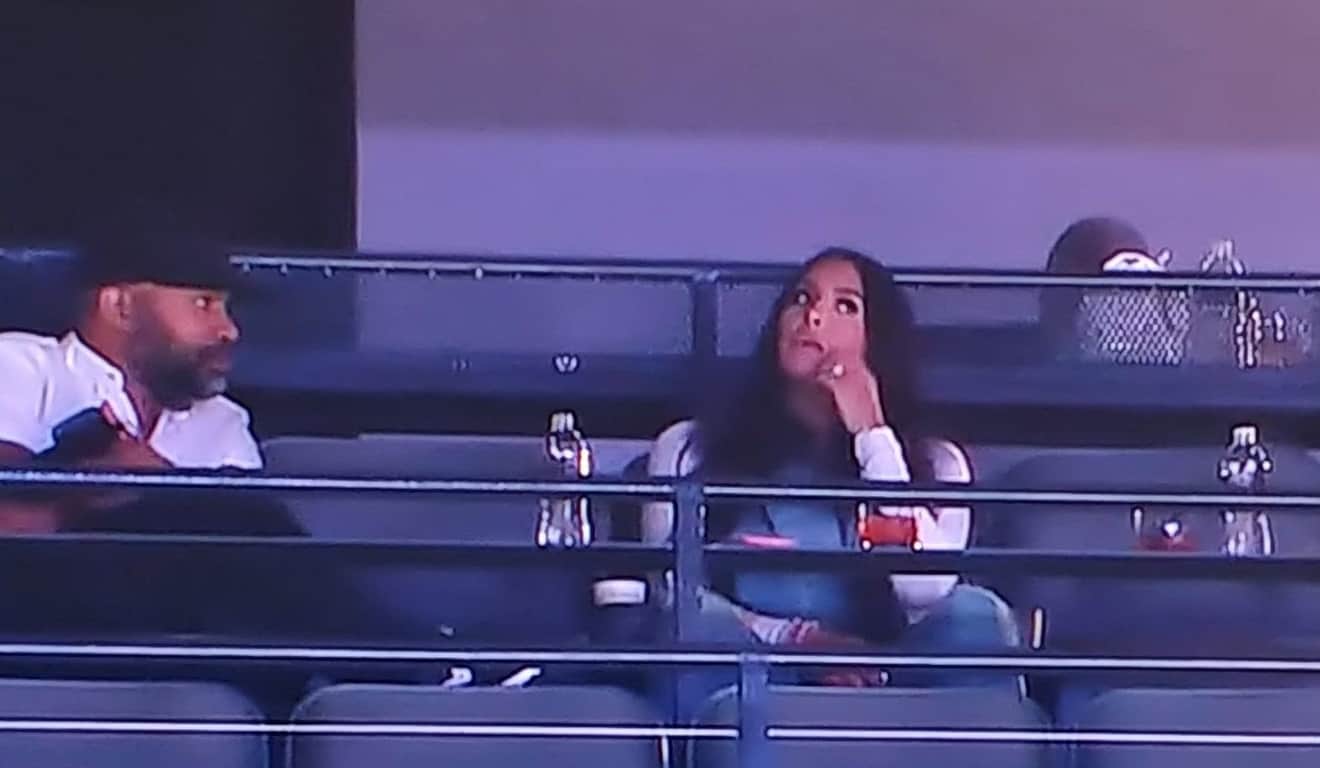 Reactions to Fisher and Vanessa Bryant chatting it up quickly went viral:
— holdTHElettuce (@hold_th) July 15, 2021
He was smart enough to sit one seat apart, let him live

— DJDAW (@YoungDeejDaw) July 15, 2021
I know how this story ends…

— ND (@start_82) July 15, 2021
It's been 18 months. She's allowed to move on. pic.twitter.com/sdoB5WXk0l

— Aging Dad (@bigtotoro) July 15, 2021
— MK (@mkenn215) July 15, 2021
D. Fisher is at it again 🙄😂 No wonder he admitted that Kobe had never been to his house🤣

— Mel824 (@Mel8244) July 15, 2021
Everyone in the world knows what that means https://t.co/A0wnlWW0zd

— celticsdraft (@DraftCeltics) July 15, 2021
https://twitter.com/4DaysInOctober/status/1415499219750715392
Have y'all ever seen Manifest…? https://t.co/xvP62Psn4u

— FreshNevahFrozen (@RaemenNoodles) July 15, 2021
https://t.co/bSSgX7mfVZ pic.twitter.com/skMkuICgVj

— Brenden Ali Zarrinnam (@BrendenZarr) July 15, 2021
https://twitter.com/sp0etynigga/status/1415481344168136708
If there's one person that knows no boundaries when it comes to women it's Derek Fisher. https://t.co/p7MSTdg19Z

— ernnytheman (@ernnytheman) July 15, 2021
https://twitter.com/_johncarlo/status/1415478571364016129
Derek Fisher rn https://t.co/pc8ShX3MvG pic.twitter.com/ogP21RLmut

— Richaun Holmes Fan Club (@DThrill55) July 15, 2021
https://t.co/IW5EeWse3d pic.twitter.com/MalxIcOXp5

— sean yoo (@SeanYoo) July 15, 2021
oh, this is not good and matt barnes can attest to that https://t.co/4Cs95yC5xX

— George Marcus (@Diaboue) July 15, 2021
Look at this scheming ass nigga 😂 https://t.co/ZyVypSrb7T

— Marquis (@Bama_Boi57) July 15, 2021
Uh oh https://t.co/TqhLHybOnA

— fraser ramon (@SteveMerkle9) July 15, 2021
Bad vibes. https://t.co/VAu6cq0WLH

— Air 40💍♉🇹🇹 (@_FourDee) July 15, 2021
Unfortunately for Fisher, his reputation is the reason this pic has gone viral.
Matt Barnes and Derek Fisher were once teammates on the Los Angeles Lakers. They are also part of an infamous NBA saga, you know the one where Fisher is dating Barnes' ex-wife Gloria Govan, and where Barnes and Fisher fought in 2015 over the woman in question.
Last time we checked in on Fisher, he's still very much with Govan, so most likely this is much ado about nothing.
Dfish wouldn't do Kobe like that.
---
Welcome to the game outside the game! Follow us on our Sideaction Twitter handle, Instagram, and Facebook for the latest on sports and pop culture news across the web!