Conor McGregor may be down, but he's not out of the trash talk game. Conor McGregor's recently deleted post on social media doesn't directly mention Khabib's Father, but it's pretty hard to think the Irishman was referring to anything else.
Late Monday night, McGregor took to Twitter to post a simple message that has since been deleted:

The tweet appears to be a clear reference to Nurmagomedov's post earlier this month.
Good always defeats evil.
Very happy for @DustinPoirier I hope you will get the belt end of the year

— khabib nurmagomedov (@TeamKhabib) July 11, 2021
Definitely a change of tune for McGregor, who once wished Khabib's father well:
Praying for the recovery of Abdulmanap Nurmagomedov. A man responsible for more World champions, across multiple fighting disciplines, than we even know.
A true martial genius!
Very saddened upon hearing this news tonight.
Praying for the Nurmagomedov family at this time 🙏 https://t.co/OVklQphPgN

— Conor McGregor (@TheNotoriousMMA) May 13, 2020
McGregor also tweeted and deleted the latest defense of his UFC 264 loss: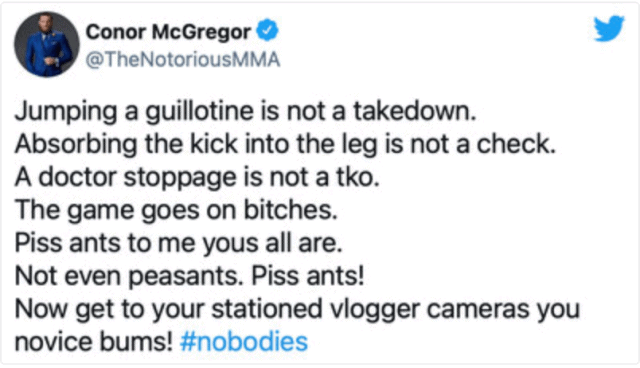 [SideAction-ad-group]
This is another cheap shot gone too far for McGregor.
His best days are clearly in the rear view mirror.
---
Welcome to the game outside the game! Follow us on our Sideaction Twitter handle, Instagram, and Facebook for the latest on sports and pop culture news across the web!