If you can't beat em', join em'. Ayesha Curry went blonde. Temporarily, though, she said on Instagram. The mother of three showed off the new do to her 7.4 million followers on Instagram.
In the video, her husband and Golden State Warriors' star Stephen Curry, who appears to be fan with a big grin on his face.
The 31-year-old has rocked tons of hairstyles in the past. But it appears to be the first time, at least in a while, that she turned blonde.
---
Related
---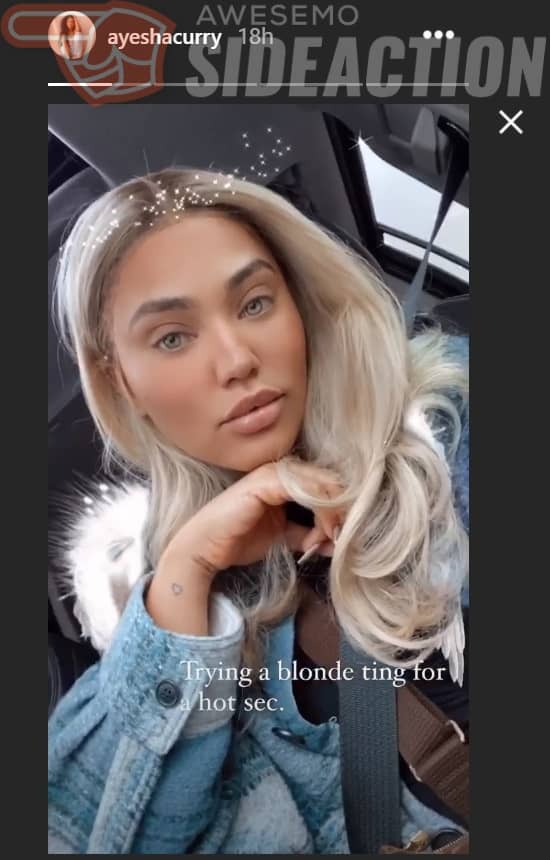 The new look prompted plenty of criticism, with the topic of skin bleaching being at the forefront of the online hate. See all the comments below:
https://twitter.com/juZZjoEJOe/status/1318036000468131840?ref_src=twsrc%5Etfw%7Ctwcamp%5Etweetembed%7Ctwterm%5E1318036000468131840%7Ctwgr%5Eshare_3%2Ccontainerclick_1&ref_url=https%3A%2F%2Fwww.hotnewhiphop.com%2Fayesha-curry-divides-twitter-after-debuting-blond-hair-news.119851.html
She look like a cousin of the Kardashian's pic.twitter.com/oa5zWZvbtr

— Thicky Mouse 💞 (@ShayButtaBaybe) October 19, 2020
Ayesha Curry skin fair as fuck, her changing her hair color convinces mfs she wants to be white? Black people hate eachother so much, I wish y'all would wake up…

— 👑Queenshit. (@sweeetestsin) October 19, 2020
Got a dark skin friend look like Ayesha Curry… got a light skin friend look like Ayesha Curry! https://t.co/CqTmBIFsp1

— $olo.. (@TryBeingModest) October 19, 2020
I'm not surprised, didn't the internet drag her and say she was ugly and all kinds of stuff, then she get the surgery's and lighter skin, now people wanna say Ayesha was always bad idk why she did this

— T.L.O.T.G (@kovhobb) October 19, 2020
I'm all for "protect Black women" but Ayesha Curry and all these celebrities trying to emulate white women is corny and does more damage to Black women than Twitter clowning them. Y'all hate dark skin and it's sad, bro.

— Craig B. (@craigblitzen) October 19, 2020
Folks acting like Ayesha bleached her skin and don't love herself no more lmaoooo

— That Ain't Me (@fadecorner) October 19, 2020
Yo that's really Ayesha Curry😭😭😭😭😭😭 black women gotta lay off the skin bleach cause no….

— riri🧘🏽‍♀️ (@lvndofvsh) October 19, 2020
https://twitter.com/_Eric____/status/1318185097703673860
Could it simply be the blond hair, or the lighting? Hard to tell, but one thing's for sure, people love dragging Ayesha Curry's name through the Twitter mud.  Check our more of Ayesha pre blonde:
---
Welcome to the game outside the game! Follow us on our Sideaction Twitter handle, Instagram, and Facebook for the latest on sports and pop culture news across the web!