Did Andrew Luck's Wife text about her husband returning? Former Indianapolis Colts Quarterback Andrew Luck hung it up prematurely, he lost his love for football. Injuries piled up, and Luck just wasn't feeling like putting his body through anymore football. Recently Jim Irsay spoke about Luck returning, and he openly admitted he'd welcome him with open arms. Now there's some chatter that Luck may be on the verge of returning. There's some screenshots of texts that have been circulating, pointing to Luck's desire to return.
The texts are allegedly from his wife Nicole.
See below:
So now that some time has passed, I believe he has gotten away from being mentally drained and no longer deals with the injury cycle. If those screenshots are correct (still awaiting actual confirmation) then I think it is entirely plausible that he is thinking of a comeback.

— Colts Coverage (@Colts_Coverage) February 3, 2021
Here are the screenshots the tweet is referring to: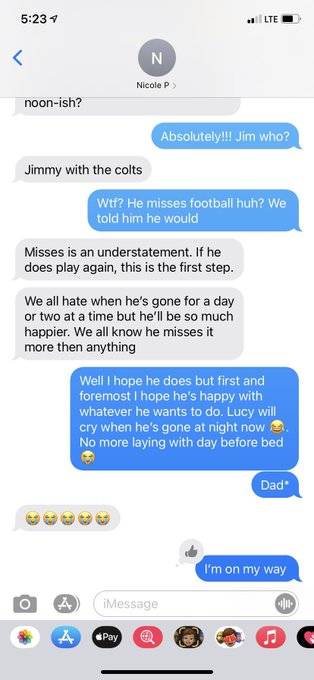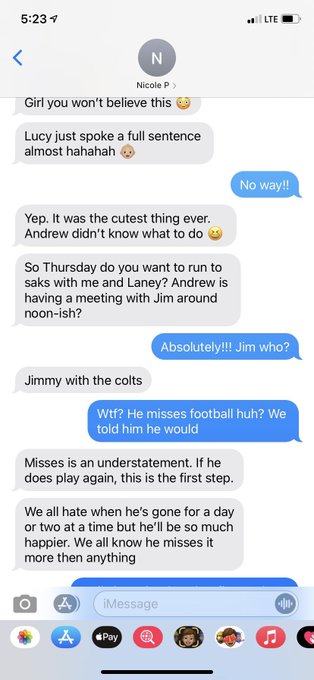 https://twitter.com/kareemjumpman/status/1356575975853719552
Twitter reacted to the news:
Rumors of Andrew Luck coming out of retirement are not good for my health tbh

— Sweet Lou (@Louis_Ville) February 3, 2021
Andrew Luck rumors. Don't do that. Don't fake Text Messages, don't fake "information" about diner with Irsay. Don't pretend your wife knows a friend of andrews wife etc… Please don't! 🙁 He is retired!

— fragsteiger (@fragsteiger) February 3, 2021
https://twitter.com/muspirit/status/1356989582470963200
Putting your wife's friendships on the line so you can possibly break the Andrew Luck comeback story is how you know your priorities are in the right place. https://t.co/9hulyHdznI

— Minnesota Sports Fan (@realmnsportsfan) February 3, 2021
https://twitter.com/IndyFan4415/status/1356987407049109505
https://twitter.com/MattMacCoyNFL/status/1356986763512807425
when i see Andrew Luck rumors on twitter pic.twitter.com/Yl8Cq65mh3

— Jacob Verduin (@jverduin20) February 3, 2021
#AndrewLuck pic.twitter.com/ooiiMcqbt9

— RealTALK_With_B (@BigD_and_B) February 3, 2021
Reaction to Andrew Luck returning to the NFL rumors pic.twitter.com/UBRTxXZtnc

— Jason McIntyre (@jasonrmcintyre) February 3, 2021
If Luck is actually contemplating returning, the Colts will instantly be the favorite in the NFC.
A healthy Andrew Luck is as good as it gets. Hopefully he can come back and play again, the NFL needs great QB play.
---
Welcome to the game outside the game! Follow us on our Sideaction Twitter handle, Instagram, and Facebook for the latest on sports and pop culture news across the web!