Van Jefferson has some baby mama drama .
Van Jefferson announced a very fitting name of the son who was born on night of Rams' Super Bowl victory
Jefferson and his wife Samaria revealed the name of their second child together, a boy named Champ.
"We decided on Champ Jefferson. It's very fitting. That's very fitting for the type of situation we just had … 'Champ' is like a warrior, and my wife is a warrior, what she did that whole game," he said.
LA Rams WR Van Jefferson Gave His Son A Fitting Super Bowl-Themed Namehttps://t.co/51E7E8AWvK

— SideAction (@SideActionHQ) February 22, 2022
Now it appears the other Mother of one of his children is wondering why no one is mentioning his other kid.
People Magazine posted about Van and his wife Samaria.
See the post below:
Jefferson's baby mama jumped in the comment section to point out that he has another son. Jefferson's wife Samaria responded to her comment.
"Definitely should have included his other son, but super cute pictures!"
Jefferson's wife's response:
"He was included. The pictures haven't been posted yet. I wouldn't be so quick to comment on something you don't have all the facts. But we appreciate you being so concerned, and we can't wait for you to see them 😊"
See below: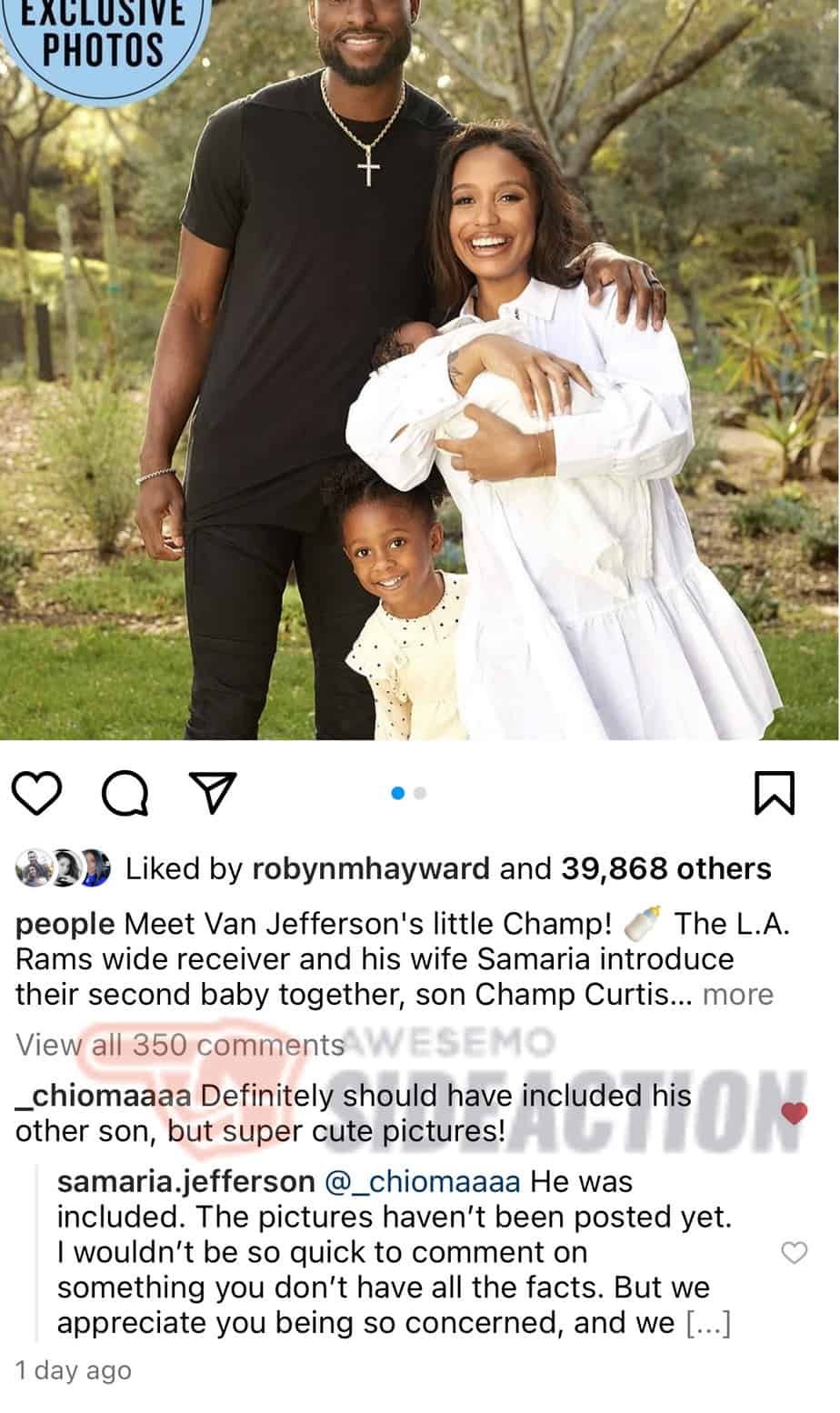 While announcing Champ Van Jefferson's name on Instagram live, Van reflected on what Feb. 13 means to him.
"It was a great day, bro. I got three prizes today. My wife, my son and the Super Bowl," he said.
You hate to see such a special moment get caught up in the comment section, but this is where we're at.
Check out more of Van and his wife courtesy of People:
---
Welcome to the game outside the game! Follow us on our Sideaction Twitter handle, Instagram, and Facebook for the latest on sports and pop culture news across the web!