A man went semi-streaking through Raymond James Stadium during Sunday's Super Bowl. Today, that Super Bowl streaker was identified as 31-year-old Yuri Andrade from Boca Raton, Fla.
[Awesemo+wSportsbookAffiliates]
[sportsbookaffiliates]
Super Bowl Streaker Has Been Identifiedhttps://t.co/xmLTA53CAN

— SideAction (@SideActionHQ) February 8, 2021
Andrade spent the night in jail, and was released this morning, posting $500.00 bond.
Check out his mug shot.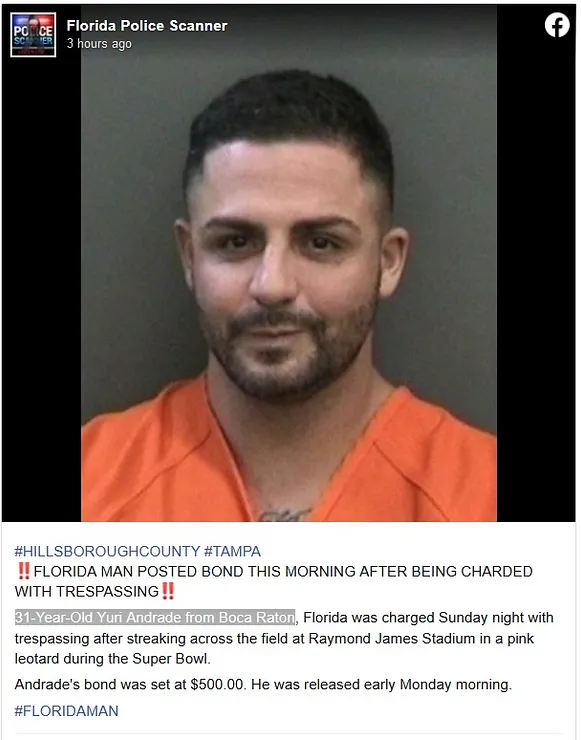 Another fan is now coming out with a story about Yuri Andrade. According to the person, he met the streaker at a restaurant prior to the Super Bowl. He revealed that he was planning on taking a large wager on there being a streaker during the Super Bowl at +750. He then had his brother distract security so he could get out onto the field. According to the story, Andrade will make over $300,000 on the bet, even after he pays off his legal fees.
What do you think bettors, is this true or false, 🤭 pic.twitter.com/cPfrR9I0n3

— Pickswise (@Pickswise) February 9, 2021
If this story is true, you have to tip your cap to Yuri Andrade. The man was willing to risk it all and face public humiliation on a get rich quick scheme during a Super Bowl. He succeeded, too. This might have been the riskiest bet of all-time. What if he never makes it onto the field?
Yuri Andrade took a bet on himself, and he delivered. If this whole thing is true, that is.
---
Sideaction's Latest:
---
---
Welcome to the game outside the game! Follow us on our Sideaction Twitter handle, Instagram, and Facebook for the latest on sports and pop culture news across the web!