With professional sports in North America still somewhat in limbo, we're going to need to scramble for something to pay attention to if they don't make it back. We're keeping an eye on the Marble League just in case.
Look, call me pessimistic if you will, but I'm really struggling with the idea that MLB the NBA and the NHL are going to be able to make it back in July. I'm skeptical about the NFL in the fall as well. As Covid-19 case numbers continue to climb in numbers disproportionate to the expansion of testing, the proposed "bubbles" that the leagues plan to create simply seem untenable. Anyone who has ever seen a zombie movie knows these things don't hold. Eventually someone is sneaking out to get a slice of pizza, or see their newborn baby or make any number of stupid decisions young men in their 20s are prone to making.
The NBA knows this too. There's a reason they created a "snitch line" for players to report anyone they witness going off campus or breaking the strict quarantine rules. They put that in place because they know that humans just can't be trusted, in these situations we fall into a false notion of "I can break the rules because everyone else is following them." One infected zombie gets inside the walls or one person hides a zombie bite for too long and it's over. The whole system breaks down in a cascade of failures. You didn't think I was going to finish that zombie analogy, did you?
The point is, we have to buckle-up for the likelihood that these attempts are going to be scratched. If the leagues happen we should consider ourselves fortunate and enjoy them that much more. If they don't happen, there's always marble racing.
No, really. Marble racing. More accurately, Jelle's Marble League. Starting this Sunday, June 21. If the world doesn't end first.
Welcome to the Thrilling World of Jelle's Marble League
Make no mistake, this is a fully functional league with teams, players, story-lines, multiple events week to week, a championship, even a stadium filled with marble fans. And I don't mean fans of marbles, I mean marble fans: 
The races themselves are actually a ton of fun as you can see in any of the videos on the league's YouTube channel. The people from Jelle's go all out building complex tracks and putting loads of time into production values.
If this concept sounds familiar you may be remembering an episode of John Oliver's Last Week Tonight from five or six year… (checks notes)… a month ago?! Back in May, Oliver's show was exploring the absence of sports and speculating on their return. As a hedge in those uncertain times, Oliver introduced us to the wild hypnotic amazing world of Jelle's Marble Runs. And if we aren't getting NBA for a month, or more, and MLB for, well probably ever, I'm in on giving this a shot.
---
Related
---
You can watch the entire Last Week Tonight story here:
Six Things You Need to Know
Seven Different Series
Jelle's offers a full seven different series of marble runs. After the main Marble League, there are Showdown, Rally, Marbula One, Hubelino, Marbula-E and Last Marble Standing events. Our focus is on Marble League, formerly known as MarbleLympics.
Format
The Marble League is comprised of a field of 16 teams. The top three finishers from the previous year gain automatic entry to the field, as does the "host" team. This year's designated host is Team Galactic, beating out a field of six other teams. The three automatic qualifiers were 2019 champions The Raspberry Racers, and the two runners up, the Green Ducks and the Hazers.
The remaining 12 teams are selected via a qualifying tournament featuring a sub-set of events and 20 competing teams. The eight teams that do not qualify are relegated to the Marble Showdown, joining the four bottom teams from the previous year's Showdown standings, who do not make the qualifying tournament.
Events
Each host team applies something of a theme to the nature of the events, and Jelle's has not revealed the full slate for 2020's sixteen event competition. The schedule begins with Opening Ceremonies on June 21, followed by the first event, Balancing.
In 2019 the theme was ocean-related, and the events list included:
Underwater Race
Funnel Race
Balancing
Gravitrax Slalom
5 Meter Sprint
Relay Run
Block Pushing
Summer Biathlon
Hurdles Race
Hubelino Maze
Dirt Race
Rafting
Elimination Race
Surfing
Collision
Sand Rally
Scoring System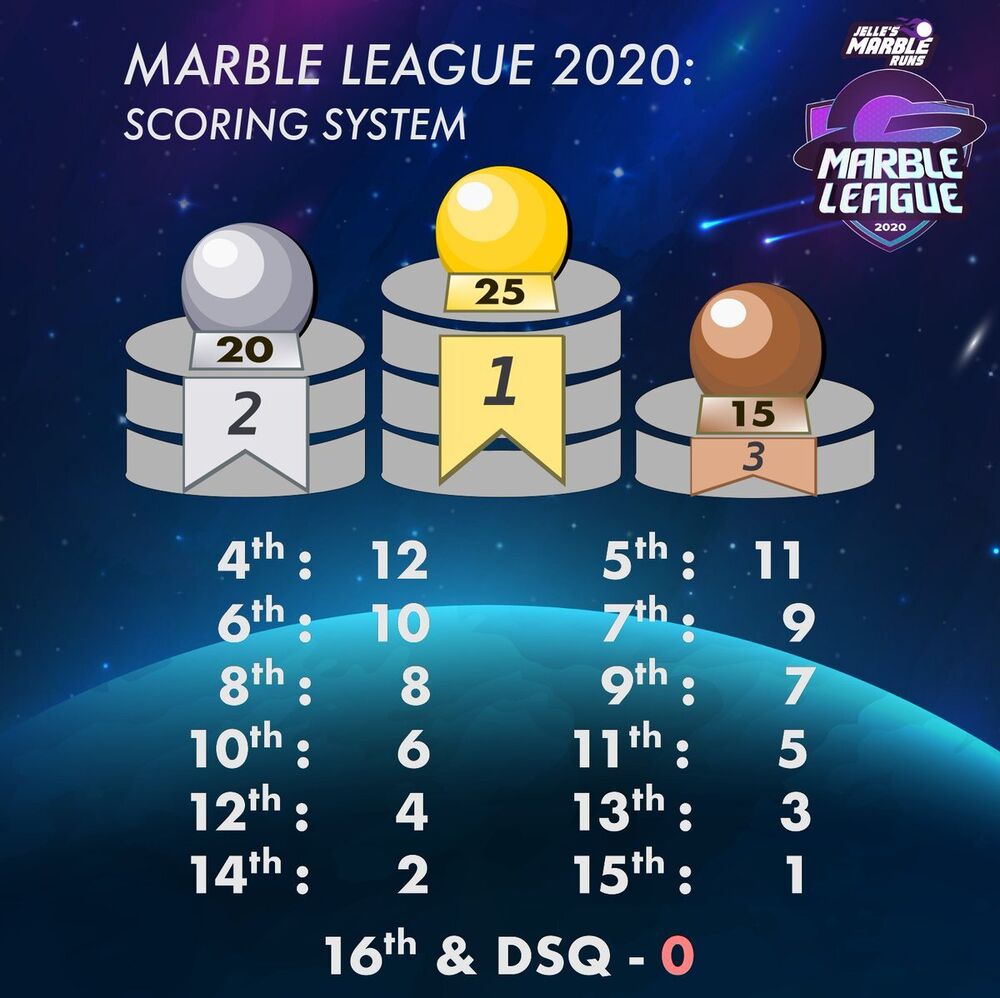 Qualifying Runs Have Taken Place and the Results Are In
TODAY'S THE DAY! Stay tuned for a link to the 2020 #MarbleLeague Qualifiers YouTube premiere in the next 2 hours! #ML20 pic.twitter.com/J2TRndoqeC

— Marble League (@MarbleLeague) June 18, 2020
The stands are packed! The #ML2020 Qualifiers premiere at 3pm EDT / 21:00 CEST on our channel, come join us and watch them live with us! We're waiting for you!😍🏆 https://t.co/JgvenFkaXw pic.twitter.com/fJI7zWqfFO

— Jelle's Marble Runs (@Jellesmarbles) June 18, 2020
You can catch up on qualifiers here:
Qualified Teams, Record Holders and Best Bets
The thrilling qualifiers left us with a great field of marble teams. This was the first year in the five-year history of Marble League that failed to see a new team qualify. In order of qualifying they include:
Savage Speeders
Crazy Cat's Eyes
Oceanics (last year's host)
Thunderbolts
Mellow Yellow
Minty Maniacs
Balls of Chaos
O'rangers (by far the favorite team in Jelle's fan polling)
Midnight Wisps
Hornets
Team Momo
Bumblebees
The Savage Speeders look like the team to beat. The team is led by two of Marble League's most successful athletes, Rapidly and Speedy. The two teammates are tied at the top of Marble League's record standings, with two gold medals and a silver each. Rapidly is the current 10-meter sprint record holder.
Hosts Team Galactic have a star of their own in… Starry… not a sentence I fully planned out there. Starry has two golds and a bronze to her credit. Yes, "her," did I forget to mention that the athletes have individual personalities and stories?
According to Starry's Wiki, she "met her future teammates while working at the Galactic National Space Center in Galakonur." And there's one of these for every marble in the league. The wonderful lunatics who put this thing together might have more free time than anyone on the planet.
If you're looking for a quality sleeper team, look out for Balls of Chaos. The team has two of the league's top 10 all-time medal winners in Tumult and Anarchy, and did well in the crucial and highly popular Funnel event during qualifiers, where they ran seventh overall.
One thing is for sure, the league is only getting better. Fan polling overwhelmingly chose 2019 as their favorite season, and with Last Week Tonight's sponsorship this year, the league has promised exciting things.
Improving on the insanity from last year will be a tall order…
---
Follow us on all of our social channels! Check out our Twitter, Facebook, Instagram and YouTube for more great Awesemo content.