If "Saturdays are for the boys", then apparently early Friday mornings are for the vampire degenerates, because we've got a whopper of an early weekend kickoff with World Snooker already booked for 4 a.m.
And to think we have to crank the alarm back another couple of hours in order to not miss the appetizer is an unsuspected prize reminiscent of couch Cheetos by paralleled value. In fact, we may just have to pull an all-nighter.
---
NBA is back and you can get your first month of Awesemo+ NBA for 50% off when you use promo code SIDEACTIONNBA at checkout. That's only $25 for 31 days of Awesemo's leading NBA DFS projections, ownership projections, Boom/Bust tool, & more! You better hurry because this offer is only valid thru Saturday, August 1!
---
The introductory helping of degeneracy comes at 2:55 am in the form of the MODUS Icons Of Darts Live League, where Phase 4 continues with two players vying for a .500 record will dart it out, as Spanish pro Jose Justicia (2-3) barrels off with England's own Scott Marsh (2-3).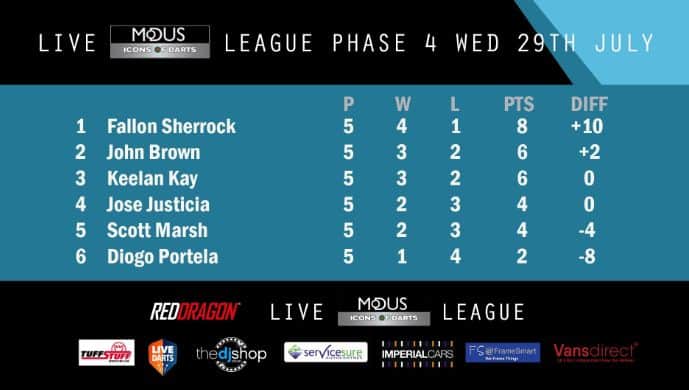 ---
Odds shopping is the best way to make sure you're finding the best bang for your betting buck. Please enjoy our new, FREE website that shows you what each sports betting odds are in real-time. You can sign up, track your bets, get notifications when a line moves and see how much money your'e making over time. Check it out right HERE.
---
Despite their identical 2-3 records in Phase 4 of the MODUS Icons Of Darts, Scott Marsh comes into this match as a rather heavy favorite, -345 on the moneyline. For a guy who's 37-37 in 2020 across all matches played, his odds seem a bit heavy given the optics of his average play this year …
… until we take a gander at the entire year for the opposing Jose Justicia, posting a gnarly 27-71 win/loss record in 2020 and drawing a +250 moneyline odds-to-win from bookmakers (still questioning half of what's put in front of them).
With the round spread of -1.5 (-180) for Marsh shifting to a -2.5 at (+110), the Friday morning party-seekers are getting their action in early on the Englishman, with the 0.38 win rate for the Spaniard seeming to be too substantial of a stat to ignore. Even the +2.5 at -150 is a steep ask given the whole landscape of the scenario, along with how filthy I feel discussing it.
Let's make the most of a Degen Friday Morning, and get your coffee ready at 2 a.m. like the barnacles of society that we are. I'm riding like a true degen by going against the grain with the plus money and also saying Scott Marsh seems to be off in Phase 4 while the -4 differential is a bit glaring for recency bias' sake.
Pick:  Jose Justicia +250 ML