This bet is a real doozy.
There are positive bets, you know like which team will win the Super Bowl, or perhaps you want to bet on a QB to throw for a certain amount of touchdowns. And then there's this bet, which is a really a tough one to call. With betting seemingly dominating everything in sports, there's a bet out there for everyone. If you're someone who loves interceptions, more specifically, into Quarterbacks who throw interceptions, this bet is for you. DraftKings Sportsbook recently dropped odds on which QB will toss the most picks this season.
Jets Quarterback Zach Wilson is the leading candidate to throw the most interceptions. Coming in behind him is Bears QB  Justin Fields,  Jaguars QB Trevor Lawrence,  Texans QB Davis Mills,  and rounding  out the  top Five is Jameis  Winston.
See  below:
You can literally bet which QB will lead the league in picks @DKSportsbook 😂 pic.twitter.com/By6mrrJgOU

— br_betting (@br_betting) August 17, 2022
Matthew Stafford and Trevor Lawrence were tied for the most intercepted passes in 2021, with 17 interceptions.
Josh Allen, Taylor Henicke, and Justin Herbert also finished in the top 5 of interceptions.
You can see the full list below courtesy of Statmuse: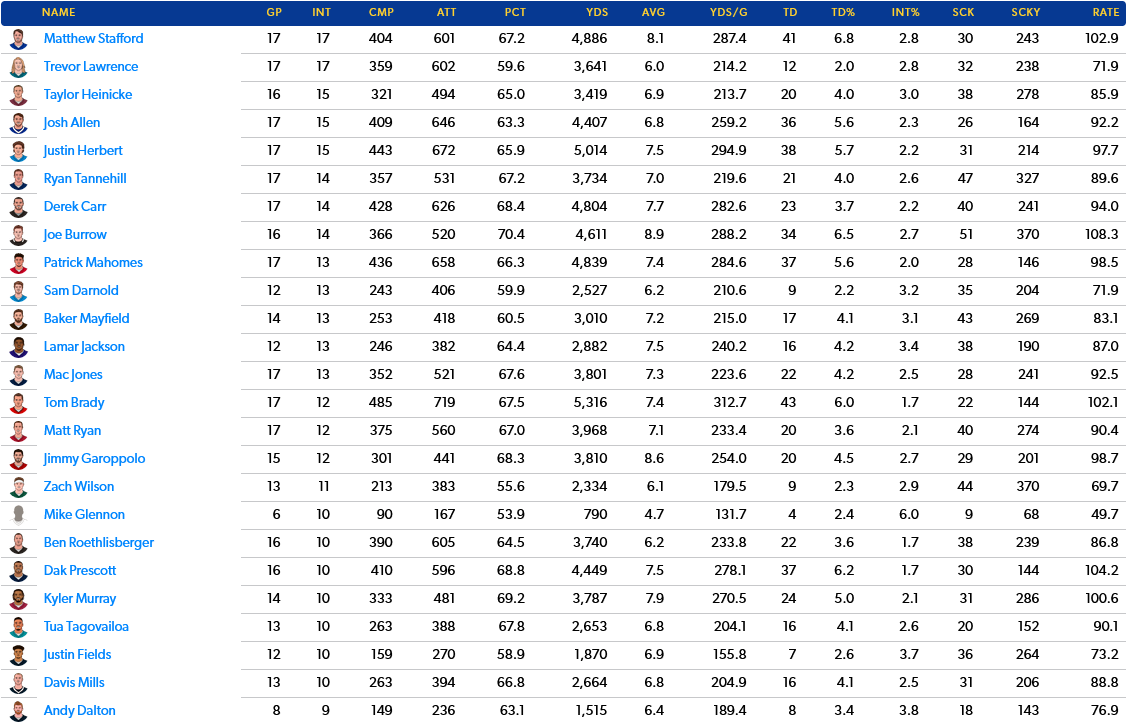 Matthew Stafford is currently at +1400,  so maybe he's the guy to take a gamble on.
This is one bet that is hard to root for, but If  I'm picking one guy it's going to  to be Jameis Winston, he has 91 career picks on his resume.
Now for sure I'll be keeping tabs on this super negative bet.
---
Welcome to the game outside the game! Follow us on our Sideaction Twitter handle, Instagram, and Facebook for the latest on sports and pop culture news across the web!