Aaron Rodgers is hard at work during his stint as the host of Jeopardy. And by the looks of it, he works diligently to make sure he executes the plays, just like on the football field. The Green Bay Packers star shared a picture of the sticky note reminders he tacked to the podium as helpful tips for hosting "Jeopardy!"
Rodgers studied just like he does his playbook:
"I would watch the show on mute. That was a good way to practice," Rodgers told the Ringer of his pre-game "Jeopardy!" preparation. "So you watch the show on mute and you practice reading the clues and then calling on the contestants. That was a fun way of doing it, because it's different from when you're sitting on the couch playing to when you're controlling everything," he said. "You've got to learn the form. It's looking down to read the clue and then looking up to call on a contestant, and also understanding what the answer is in case none of the contestants get it right, and then realizing at that point that you've got to work on your posture and where you're looking and know who you're talking to when you give that response. There were so many little things that were important for Alex being so smooth that I just wanted to be sure I had down."
One of the big things he needed to remind himself about was not to pick his nose or butt.
See below:
[sportsbookaffiliates]
His other sticky notes to self:: "Relax," "Energy" and "Stand Up Straight."
But this one really stood out among the rest: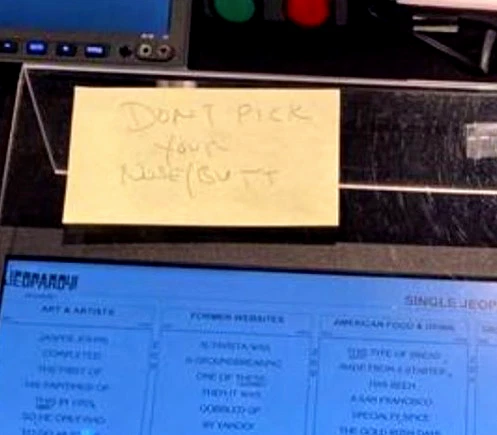 ---
Welcome to the game outside the game! Follow us on our Sideaction Twitter handle, Instagram, and Facebook for the latest on sports and pop culture news across the web!