Is Zach Wilson Mormon?
He sure is, and the New York Jets quarterback's faith is very important to him. In an interview with Deseret News, Zach opened up about his faith. He considers himself "a Mormon, an LDS Church member, for sure," but he is not "comfortable" being portrayed as a representative of the church in the way that other high-profile Latter-day Saint athletes such as Jimmer Fredette, Taysom Hill and Daniel Sorensen are.
"It is not something I am against, it is just that I didn't grow up active in the church," he said. "I'm not that 'poster boy' for the church. … I was never really a churchgoer my whole life, just not involved much in it. My family and I hold the same morals and values that the church does, for sure, but I really didn't know a lot about the teaching and stuff until I got to BYU."
It's been a year since draft day, and now Zach's religion is being brought back up again. Yesterday we posted a video of Zach commenting on Mormon leader Joseph Smith.
"You throw like Joseph Smith is telling you plays from the sidelines," the guy can be heard saying before Zach Wilson responds, "Joseph Smith was f**king 100 b**chs so…".
Watch the video below:
Just in case anybody is looking for that Zach Wilson video pic.twitter.com/raxzMSm4QM

— big booty enthusiast (@BBEsporting) April 26, 2022
Shortly after we posted the video, Zach slid into our DM's asking for us to remove the video. At the time we posted, we had the video from another Twitter user who uploaded the video, Zach's reps also reached out to him to delete the video.
See both screenshots below: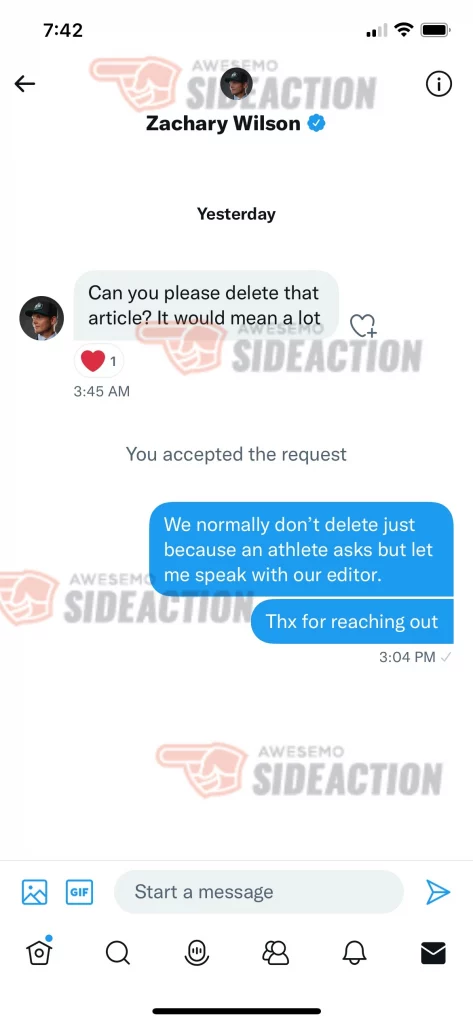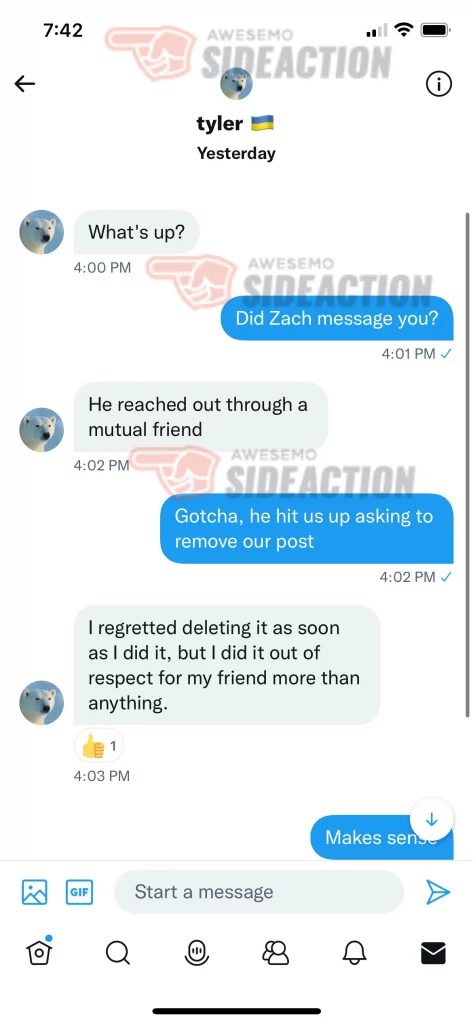 Unfortunately for Zach, another video popped up in its place (you can see it above), as we all know it's pretty difficult to remove something off the web once it's been uploaded. And we also have a copy just in case Zach continues his quest.  Joseph Smith was the founder and first president of The Church of Jesus Christ of Latter-day Saints, so yea, not someone you want to be caught on video joking about having sex.
But we know he was definitely getting it in, there have been reports that Joseph Smith had potentially up to 40 wives.
Sucks for Zach that he can't make an off the cuff joke without repercussions.  We'll see how this shakes out.
---
Welcome to the game outside the game! Follow us on our Sideaction Twitter handle, Instagram, and Facebook for the latest on sports and pop culture news across the web!