Josh Allen and his longtime girlfriend, Brittany Williams, are out in Las Vegas prior to "The Match" on Wednesday afternoon.
And apparently they've had some time to see the sights, as well.
Prior to the golf event, Brittany Williams posted a photo of herself dressed up in their hotel room prior to a night out.
"When in Vegas," she captioned the post.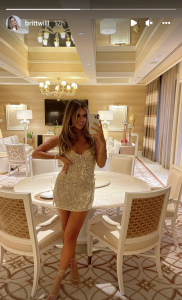 She would follow up the initial Instagram story with a video of them out to an extravagant dinner in Las Vegas.
Josh Allen is set to be teamed up with Patrick Mahomes as they'll face future Hall of Famers Tom Brady and Aaron Rodgers in the event.
Luckily for Brittany Williams, she's getting a Vegas trip out of the whole event.
Josh Allen Girlfriend Pictures
Check out more of Josh Allen's girlfriend below:
---
Welcome to the game outside the game! Follow us on our Sideaction Twitter handle, Instagram, and Facebook for the latest on sports and pop culture news across the web!