Carmelo Anthony is not going to sit back and take it.
The NBA star seemingly responded with a message following IG model Yazmine Lopez's recent comments about their alleged relationship.
Lopez spoke about her previous relationship with NBA star Carmelo Anthony. She confirmed Melo sent her and another woman the same flower arrangement for Valentine's day.
IG Model Confirms Carmelo Anthony Sent Her And Other Woman Same Valentine's Day Gifthttps://t.co/YBuG3dGBur

— SideAction (@SideActionHQ) June 29, 2022
While filming a YouTube Q&A, Lopez answers the question "did you ever date Carmelo Anthony, or was that just a rumor?" She reveals, "that was my man. The flowers were real that he sent me."
Melo had supposedly sent the same gift to another alleged girlfriend.
"I was literally sitting next to him in the bed. I was like 'who sent her these flowers bro'?" She continues, "that was my most embarrassing moment. At the time I was so hurt and upset about it, now I can laugh about it."
Carmelo seemingly responded via his Instagram story:
"we find no sense in talking about something unless we specify how we measure it. A definition by the method of measuring a quantity is the one sure way of avoiding talking.."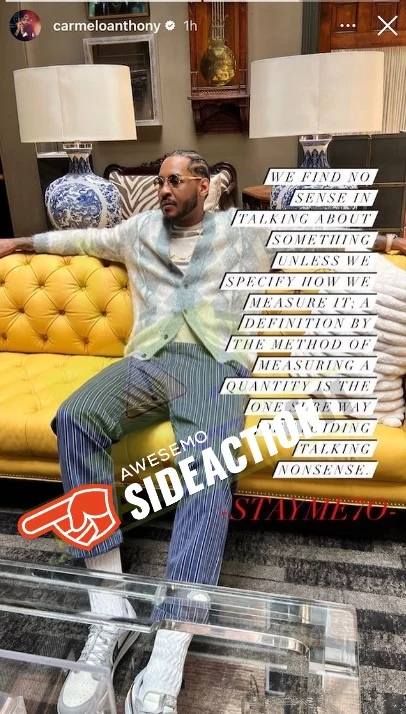 Not sure exactly what that means, but that's why they call  it a cryptic tweet.
Check  out the girl in question he's calling out below:
---
Welcome to the game outside the game! Follow us on our Sideaction Twitter handle, Instagram, and Facebook for the latest on sports and pop culture news across the web!